Local News
Wolves Split with Petersburg on Homecoming Weekend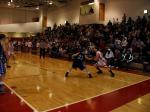 WRANGELL WHS Boys Hoops goes 1-1 against Petersburg during Homecoming Weekend. KSTK's Tony Gorman reports.
© Copyright, Wrangell Radio Group
Have a news tip? Click here to submit your tip.
Recent News
A controversial British Columbia mine upriver from Wrangell and Petersburg is slated to ramp up to full production this summer. But the Red Chris Mine is still waiting for final approval from the B.C. government and a First Nations group.
more
Wrangell officials are asking residents to reduce water consumption because of a shortage at the community's reservoirs.
more