Local News
Wolves Split with Petersburg on Homecoming Weekend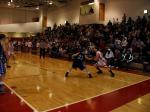 WRANGELL WHS Boys Hoops goes 1-1 against Petersburg during Homecoming Weekend. KSTK's Tony Gorman reports.
© Copyright, Wrangell Radio Group
Have a news tip? Click here to submit your tip.
Recent News
Former Wrangell Dr. Greg Salard has been found guilty of distributing and receiving child pornography. The 12-person jury returned Tuesday with a verdict in U.S. District Court after an hour and a half of deliberations.
more
District 36 independent Rep. Dan Ortiz was in Wrangell over the weekend to talk with residents about possible solutions to the state budget deficit.
more