Local News
Health Fair Week: Low-cost testing remains a fixture at Wrangell Health Fair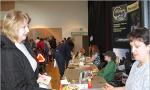 WRANGELL <input type="hidden" id="gwProxy"><!–Session data–></input><input type="hidden" id="jsProxy" onclick="jsCall();" />
<div id="refHTML">&nbsp;</div>
© Copyright, Wrangell Radio Group
Have a news tip? Click here to submit your tip.
Recent News
A Wrangell doctor was arrested following allegations of distribution and possession of child pornography. Agents from the Federal Bureau of Investigation served a search warrant yesterday at the home of Greg Salard.
more
The Wrangell Borough Assembly Tuesday passed a new animal control ordinance to tackle the problem of dogs running free downtown.
more