Local News
Health Fair Week: Low-cost testing remains a fixture at Wrangell Health Fair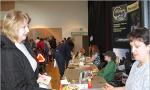 WRANGELL <input type="hidden" id="gwProxy"><!–Session data–></input><input type="hidden" id="jsProxy" onclick="jsCall();" />
<div id="refHTML">&nbsp;</div>
© Copyright, Wrangell Radio Group
Have a news tip? Click here to submit your tip.
Recent News
Wrangell's Borough Assembly met for a regular meeting Tuesday, Oct. 28 in the Assembly Chambers. Click "more" to listen to the audio of that meeting.
more
A jury trial is set for January for a Wrangell doctor accused of distributing and viewing child pornography. A not guilty plea was entered for Dr. Greg Salard during his arraignment in U.S. District Court in Juneau on Tuesday.
more