Local News
Local comes up with plan to stop new garbage cans from moving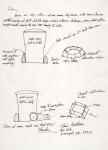 WRANGELL <input type="hidden" id="gwProxy"><!–Session data–></input><input type="hidden" id="jsProxy" onclick="jsCall();" />
<div id="refHTML">&nbsp;</div>
© Copyright, Wrangell Radio Group
Have a news tip? Click here to submit your tip.
Recent News
Visitors at the Anan Wildlife Observatory hoping to get a free look at bears before permits are required are getting their wish as bear activity picks up a little faster than usual. The observatory is about 30 miles south of Wrangell on the mainland. The Wrangell Ranger district maintains that facility, and it's beginning work this year that will keep those visitors safe.
more
Wrangell's Borough Assembly took a small step towards a potential 400-bed boarding school in Wrangell June 28. The assembly also made changes to borough employee's health care premiums. The assembly passed a resolution in support of the Alaska Native Science and Engineering Program – or ANSEP, an accelerated learning program based on the University of Alaska Anchorage campus.
more