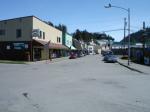 WRANGELL, ALASKA
In the next month six streets and avenues in Wrangell are scheduled to receive major overlay and asphalt improvements. Streets include Campbell Drive, Mission Street, Phillips Street, Upper Ash Street, Council Drive, and Wrangell Avenue.
City Manager Timothy Rooney says the streets listed were identified by city staff as having the biggest problems, he hopes for the improvements to be a first step in addressing some community complaints.
"We have some base failure is come of those areas, and quite a few pot holes and cracks in those portions of the streets, so those were identified as our biggest priority," he says.
The improvements are funded by $250,000 that was set aside in this year's budget by the Borough Assembly. $210,000 of that will go to the asphalt work and the city expects the remaining $40,000 to go to the hire of crews and prep work done by the public works department. Public Works Director Carl Johnson says road improvements will begin next week.
"The contractor will start on removing asphalt on Campbell Drive, out beyond city hall and bobs grocery store starting Monday, and we will be working on the other roads over the next 2-weeks," he says.
Road work on the six streets is expected to be completed by the end of August. And in other projects set to begin, the long anticipated Downtown Revitalization projected is expected to start Monday, August 1st. road construction will start at the beginning of city dock to mid front street near Angerman's Retail. Johnson says this is just the first phase of the project.
"Initially the contractor was scheduled to have three phases done this summer. They are talking that over right now with the weather and the late start whether we will get three phases done. But out of five phases at least two will get done this summer, and the remainder will get done next summer."
Johnson says with both Front Street and Campbell Drive road work starting at the same time public works is doing their best to make sure everything runs smoothly and on time. He expects most of Front Street to still be accessible to vehicles and says detour signs will be posted starting next week.
© Copyright, Wrangell Radio Group