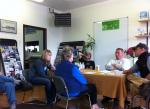 WRANGELL, ALASKA
Small mill owners, tribal representatives, conservationists, city officials, and members of the general public came together Monday to discuss Wrangell's future in timber. In June, Wrangell held a small mill timber summit, where the idea developed to create a forest products task force for the region. And Monday was the group's first meeting to establish the direction the community would like to see timber go in Wrangell.
"For the first meeting we had a good representation, good questions, and a good discussion that has really helped us focus I think on what the first couple of steps of a group like this needs to be." That's Jeremy Maxand. Maxand works as a community organizer for Southeast Alaska's Conservation Council and facilitated Monday's meeting. The group covered a number of topics from the overall purpose of the task force, to timber supply, to the first step in approaching timber demands. For those attending who work in timber, an obvious first step is the purchase of a community kiln.
"We all know there is a need for timber, it's the value added that Mike Allen and I want to add to the timber products." That's Jim Collier owner of DJ Enterprises saw mill. He says with two operating small saw mills on the island, the first issue that needs to be addressed is ability to make value added products. Currently Collier has to air dry his timber products, he says with the purchase of a Kiln he would expedite his drying process and increase productivity and product availability.
"Anybody can saw off a 2"x4", but not everybody can make something with it. If you don't put the value added product in there, then you're just working with green timber, and you're not going to have high end results," he says.
Maxand agrees a community Kiln is a logical start, and says the next would be to find state or federal funding for the project. But he says there  is still a great deal of planning ahead before the task force can begin taking action.
"What does a timber industry look like that is sustainable over a 30- year period of time, what is the capacity, what kind of products can we put out, how can we get the most jobs and most wealth out of what is a limited resource? And the key is coming to a consensus of what that looks like and supporting it," he says.
This was just the first of many meetings and Maxand says the next step is to pull different user groups together to create a community forest plan.
© Copyright, Wrangell Radio Group