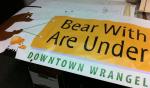 WRANGELL, ALASKA
The Downtown Revitalization project is set to begin, and to prepare for the shake up the City and the Wrangell Convention and Visitors Bureau have teamed up in a project to make sure the public is well informed of what to expect once construction is underway. Carol Rushmore is Wrangell's Economic Development Director and says they created new signs to catch the attention of both residents and tourists while also promoting a major aspect of southeast life.
"From the ANAN Wildlife Observatory to the fascination with bears to Bearfest, all of it kind of tied together, so for our signs we used "Bear with us" as the theme. And we used bear pictures by Robert E. Johnson the photographer who was here during Bearfest. We  used some of his pictures to create the posters and the sign," she says.
Banners, signs, and posters will be going up around town and in store fronts soon and Rushmore says she hope it will encourage everyone to visit downtown, and not to avoid the businesses while work takes place.
"Hopefully it's positive. We're just trying to promote continued business and try to help steer people around some of the mess, and direct them to where the detours are," she says.
The first phase of the Downtown Revitalization will be road improvements that span the length of Front Street. Improvements will include roadway foundations, concrete pavement, and the installation of a water system, storm drain system, and sewer service connections. Phase one is scheduled to be completed by October. The public is invited to the construction progress meeting August 18th, at 10:00 A.M. at City Hall.
© Copyright, Wrangell Radio Group