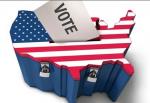 WRANGELL, ALASKA
The Wrangell regular election is just over a month away, and the city clerk's office is hard at work preparing for this year's candidacy filings and the voting ahead. A number of positions are opening up this year, and vacancies include two seats on the Borough Assembly, two on Wrangell Medical Center Board, one Port Commission Board seat, and one seat on the School Board.
Borough Clerk Christie Jamieson say the public should make sure they are registered ahead of time and encourage those thinking about running for a position to contact the city now.
"Even though were almost to the deadline for the filing of declaration of candidacy, we really need more filings for the school board and the port commission. We welcome your filings. I predict we will get all of those seats filled, but this is when we get down to the wire and we need those filings," she says.
Positions that have been filed include seats A and B on the Borough Assembly by Wilma Stokes and Don McConachie, and filings have been made for seats on the Hospital Board by Dawn Hutchinson, Rhonda Dawson, and Dorothy Hunt Sweat. All election forms can be picked up at the clerk's office at City Hall between 9 am- 5 pm. Declarations for candidacy run through August 31st.
Along with filing for positions early, Jamieson recommends anyone unsure about their voter registration to check the precinct master list for the city and make sure they're registration is updated, and that necessary qualifications have been met.
Absentee voting begins September 19th and runs through October 3rd. Forms can be picked up in the clerk's office at city hall between 9 am- 5 pm. Regular elections will be October 4th from 8 am- 8 pm at the Nolan Center.
© Copyright, Wrangell Radio Group