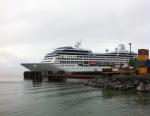 WRANGELL, ALASKA
Over the past few months Wrangell has seen a number of cruise ships, tour groups, and independent travelers. But Now that the summer months are wrapping up many businesses are looking back at yet another tourist season and how it's compared to the last.
Right down the dock from the cruise terminal is Wrangell's Stikine Inn; General Manager Jake Harris says he's noticed a great deal of rebuilding of Wrangell's tourist economy.
"We noticed that the first year it was a little difficult to get people in because people were holding on to their money, and the second year people were getting accustomed to the changes in the economy, this last year I think people were more comfortable with their spending habits, and have decided that if they don't start spending money now they won't get the opportunity and are just enjoying life a little more," he says.
The Stikine Inn and Restaurant went through a number of improvement projects over the past few years to enhance the facility and make it more of a tourist destination. Some improvements include the remodel of the lounge, restrooms, the addition of an outside deck, and new staircase in the main lobby. All things Harris says contribute to the overall stay at the Inn as well as the Wrangell experience.
"What I'm seeing is exactly what I had hoped would happen here. And this is the first year that it's really started to unfold. Some of it is us starting to expand our operations and offer a unique dining experience to Southeast. People have recognized it and said it's their favorite stop in Southeast, and we are still trying to hold up to their expectations," he says.
Across the street are Angerman's Inc and Outlet Store. When many tourists arrive in town, it's one of the first shops they hit. Long time owner Jeff Angerman says business is finally starting to pick up since a number of cruises stopped coming to Wrangell in 2005.
"The past three years have been really challenging, but this year in particular we noticed by March that business was a little better and certainly by May things were up and running." He says the eight stops by the Cruise Ship Regatta as well as some of the other small cruises have boosted business, and says he's optimistic.
"We have a lot of construction projects going on in town, and those guys are making pretty good money. Between the four construction projects going on along with the potential to build a new hospital and AICS clinic going again, Wrangell is kind of the happening place on in Southeast right now," he says.
Civic Center Director Terri Henson says this year over 5,000 Wrangell guides were sold and distributed for travelers and believes the increase in marketing is working.
"We have had some excellent articles by travel writers over the past couple of years and Wrangell's finally starting to show up with the independent travelers. And of course Economic Development Director Carol Rushmore does a lot of promotion for the city and community, and I think it's really starting to show," she says.
Henson says the Nolan Center has had an eventful year. And with over 97 bookings this year she says they are expecting another busy year ahead. With a number of center enhancement projects as well as some big bookings next spring she hopes to see more tourism develop in the community. The Innerseas Discoveries Cruise is scheduled to arrive in Wrangell both August 31st and September 7th.
© Copyright, Wrangell Radio Group