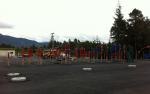 WRANGELL, ALASKA
School kicked off last week at Evergreen Elementary School, and Principal Therese Ashton says they have a busy year ahead. Outside Ashton's office window work continues on the final stages of playground replacement project.
"It's been a great start to the new year. Unfortunately we weren't able to start utilizing the elementary playground that has been under construction. But we get to watch its progress and it looks great. The kids are really excited about it and the staff members are accommodating not having a playground available. Both Johnson Construction Company and City have been very helpful in making sure we have some options, and we do have a lot of new kids here and we are trying to make sure they feel comfortable. Overall we are just making sure we have a really good year," she says.
The playground completion date has been extended to September 15th. Which at that time Ashton says they plan to hold a community celebration for the new play structure. Ashton says the new play ground is closer to the school and will include a covered structure for more severe weather conditions, as well as a basketball hoop and free space for the students to play.
Along with playground construction, Ashton says they have started the new school year with several new aid positions, and says the student count look similar to last year, but says counts are not official until October.
"We are always willing to have people come and visit us if they want to enroll their kids here. If you're out there and just thinking about bringing your kids to school, or if your kids are home schooled, or thinking about moving to Wrangell just stop on by. And those in the community who are out and about and just want to see playground when it's complete or just want to tour the school, just let us know, because we love having visitors and showing off what we do here," she says.
The public is welcome to the Elementary School Open House on September 1st. Open house runs from 6:00 pm to 7:30 pm. For more information you can contact the Elementary School at 874-2321.
© Copyright, Wrangell Radio Group