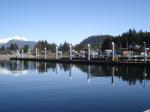 WRANGELL, ALASKA
Work on Heritage Harbor continues, but for harbor users the closure date was recently extended. Harbor Master Greg Meissner says asphalting will begin Wednesday, August 31st.
"Southeast Earthmovers will be shutting down the south entrance to heritage harbor, and also dividing the main parking lot of non parking and parking areas and getting it asphalt ready," he says.
Meissner expects asphalting to be completed and the harbor to be open to the public by Friday September 2nd. He notes that the deadline for the Annual boat launch permits is September 15th, and if found without, Meissner says citations will be given. Permit revenue goes towards offsetting the costs of dumpsters and lights being put in the harbors.
Along with new asphalt the harbors will soon be getting some new security upgrades. Meissner says nets left in the harbor dumpsters is becoming too much of a problem, and the only way to solve it is to increase security.
"The problem is that the new trucks can't handle it. It gets in the stuck and wrapped around the packing arm. Then the operators have to get in there and cut it all out, it's not safe and they shouldn't have to do that. Were trying to eliminate that, and sadly enough many cases the only way to stop it is to catch some body and fine them, so that leaves us with no other alternative but to get some cameras up and catch the people and fine them accordingly," he says.
Right now the Harbor Department is working to find grant funding to purchase an estimated 20 cameras to monitor all the harbors in Wrangell. But Meissner encourages the public to take their discarded nets, wood materials and metals to the dump to help alleviate the problem. For any questions regarding permits or harbor construction, contact the Wrangell Harbor Department at 874-3736.
© Copyright, Wrangell Radio Group