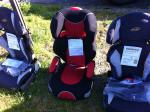 WRANGELL, ALASKA
According to Safe Kids USA, motor vehicle crashes are the leading cause of death to children 3 to 14 years of age in the United States. During 2009 there were over 33,000 fatalities nationwide.
"When there's a crash the force is quite violent, and those straps will stretch, and when there is already a give, there is a chance for ejection."
That's Anchorage Child Passenger Safety Technician Beth Schuerman. She says 80%of car seats checked in Alaska have some form of miss use, which she says can mean life or death in motor vehicle accident. But she says with the right training and information, is avoidable. At Thursday's safe car check at the public safety building, Schuerman assisted in a number of safe car seat checks. Mother Sheila Ripley and her 2-year-old son Ebon were the first to pull in for a car seat check.
While Schuerman check the straps on Sheila's car seat, she says there are a number of things to make sure and check when installing a car seat. They include making sure the car seat is tightly secured to the vehicle, and make sure the straps are tight around the child. Schuerman says one thing many don't realize is that car seats don't last forever, and like your average gallon of milk car seats have an expiration date.
"Car seats do actually have a shelf life , and here in Wrangell you don't have a place to buy car seats, so there are probably a lot of old car seats. We want to help get a good car seat under each child here," she says.
She says you can find the expiration date near the manufacturer make and model near the bottom of the car seat. For those in need of a car seat in Wrangell, you can make an appointment with the Public Health Nursing Office. Rinda Howell is the public health office assistant and encourages anyone in the public without a car seat to make an appointment to get one.
"There is no reason for any child in this town to be without a car seat. If you can't afford it, they are free of charge. They need to come in and get their child weighed and measured and fitted for a car seat," she says.
The National Highway Traffic Safety Administration or (NHTSA) recommends Children 4'9 ft and under to be in car seat, and according to Alaska law children under four years of age must be properly secured in a federally approved child safety seat.
Outside the public safety building Sheila's car seat check takes about 20-minutes. Sheila's says this is the first time she's ever been formally trained on car seat safety and says she's happy she did it.
"You never know, you don't know if someone will hit you or throw you off the road. It's best just to have the kid as safe as possible," she says.
The Alaska Injury Prevention Center of Anchorage holds annual safe car seat checks, and is currently traveling for one day visits in many of the rural southeast Alaska communities. Schuerman says it's important for those driving in rural Alaska to buckle up, and make sure proper safety precaution are taken.
"The best defense we can give ourselves and our children is to simply keep ourselves inside the car, and that's done by using a seat belt for adults and older kids, and the proper car seat for all children,"she says.
National Child Passenger Safety Week runs from September 18th -September 24th. For more information on obtaining a child car seat in Wrangell you can contact Rinda Howell at the Public Health Office at 907-874-3615. Or for information on car seat safety and car seat checks you can visit www.NHTSA.gov.
© Copyright, Wrangell Radio Group