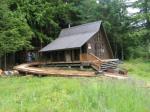 WRANGELL, ALASKA
A Community survey is now available online to Wrangellites to identify what projects and programs community members want to see included in the new comprehensive outdoor recreation plan being developed in Wrangell.
Wrangell Mayor Jeremy Maxand says the survey allows members of the community a chance to express what they want when it comes to outdoor facilities and programs in the Wrangell Borough and throughout the Ranger District.
"It could be trails, cabins, it could be water facilities, and it could be recreation in the winter or the summer. There is a whole host of questions that are asked in the survey. It's the hope of the planning process team that the information will paint an accurate picture of where we are and what outdoor recreation resources people use and what direction we need to go," he says.
Participants involved in the planning process include members of the city and borough, the forest service, the tribe, Southeast Conservation Council, as well as local businesses.
The group began working on the outdoor recreation plan early last spring. Shelley Wade is a senior planner with Agnew Beck a consulting firm out of Anchorage that is assisting in the planning process. Wade was in Wrangell last April to give a community presentation on the plan. She says this is an ideal time for the community to participate in the survey.
"The community has just experienced a summer of activities and has a better idea of what resources they like and are using most often and would like to have more of. Or perhaps they are realizing where there are some gaps that they would like to have folded into this planning process and have highlighted as a priority," she says.
Maxand says he hopes this plan will help identify areas of overlap in recreation planning and develop more collaboration between local organizations and government.
"The real focus of this is twofold, one it is to enhance the quality of life of those who live in Wrangell, and the second part is looking at economic development and what can Wrangell do to attract individual travelers, and people looking to come to Alaska and recreate outdoors. We think this planning process is the first step in maximizing our potential both for those who live there and for those visiting southeast Alaska," he says.
All of the information gathered from the survey will be presented to the community in mid November during an outdoor recreation planning meeting. At that time Wade says Agnew Beck will be meeting with local tourism business to get their feedback on the plan and gather any further information.
You can find the survey on the Wrangell City and Borough website at www.wrangell.com in the news section. The survey will be available to the public for a month.
For more information on the survey or the outdoor recreation plan contact Mayor Jeremy Maxand at 907-305- 0269.
© Copyright, Wrangell Radio Group