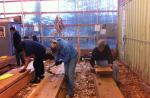 WRANGELL, ALASKA
The renovation of Chief Shakes Tribal House in Wrangell's downtown harbor is underway, but across the harbor in small shed a group of carvers work diligently adzing the new house posts, beams, and flooring that will cover nearly 7,000 sq ft of the structure.
As Chief Shakes Tribal House gets a 21st century makeover so does its carvers. The team consists of Master Carver Wayne Price of Haines, Vanessa Pazar of Sitka, Justin Smith of White Horse, and after weeks of adzing classes in August and September, the Wrangell Cooperative Association recently announced Wrangell's newest carvers hired on for the project. They include Wrangell's very own Tammi Meissner, Susie Kasinger, and Linda Churchill, all women, which is a first in Wrangell.
"I started showing up in the evenings and kind of hanging out, and then I found out these two were coming in during the day, and I said I wanted to come in during the day too. And the next thing I knew I was coming in as volunteer eight hours a day for three weeks. And I was coming down to the carving shed not knowing that there were jobs available."
That's Linda Churchill and Susie Kasinger. Kasinger is a non native local, who has been interested in native culture since she was twelve-years-old. Over the years she has been collecting carving tools to better her craft and she says when she found out jobs were being offered to qualified carvers, she knew this was a chance she didn't want to miss.
"When am I going to get an opportunity to work with a master carver again how many times in my life will this happen? So I just kept coming down and putting in my time showing them that I was serious, we all want to be here more than anything," she says.
Once the three women were chosen for the job they spent the first 3-weeks focused on practicing the art of adzing. Tammi Meissner has lived in Wrangell her whole life and has been a long time supporter and educator of SEARHC traditional foods as well involved in the local native community. Meissner says adzing was something she had never tried before and after just a few classes she says she was hooked.
"Once you get into a rhythm you know you become one with the adze and one with the board, it's kind of like a possession over you and you just don't want to stop," She says people often ask how she can "pound" on a piece of wood all day, but she says there is a lot more to adzing than that.
"I mean you have to read the wood, you have to understand what it's telling you. You have to understand how you are using your adze, you have to practice and take your time. And it's a real awakening, paying attention to what the wood is telling you, it's a pretty spiritual thing," she says.
Along with spiritual Meissner says the process can be physically grueling. The women work 8-hour days sometimes 6-days a week. And at this point the group has adzed over 3,000 sq ft of boards for the restored house. Vanessa Pazar has been carving for over a decade in this traditionally male dominated craft, and she says working on this project with Wayne Price and the rest of the team is something she has always wanted to do.
"The project has gone amazingly well. When you think about it all of our life stories have brought us together to build this clan house. The Wrangell carvers are picking it up very quickly. They can see what needs to be done and they are doing it. They have developed their pattern as well as inner and outer strength and I am really proud of the art work we are putting up in this clan house," she says.
Master Carver Wayne Price says the project is ahead of schedule, and that he's very pleased with the team that was chosen.
"I think it's a wonderful new time in our life, they are going to be recognized and I think the work they are going to do will be recognized so I look forward to a new chapter," he says.
The women plan to continue working on carving projects once Chief Shakes Tribal House renovation is complete, and say&nbsp; they would like to be the ones teaching the next generation the craft locally.<!–[if gte mso 9]><xml>
<o:OfficeDocumentSettings>
<o:RelyOnVML />
<o:AllowPNG />
</o:OfficeDocumentSettings>
</xml><![endif]–><!–[if gte mso 9]><xml>
<w:WordDocument>
<w:View>Normal</w:View>
<w:Zoom>0</w:Zoom>
<w:TrackMoves />
<w:TrackFormatting />
<w:PunctuationKerning />
<w:ValidateAgainstSchemas />
<w:SaveIfXMLInvalid>false</w:SaveIfXMLInvalid>
<w:IgnoreMixedContent>false</w:IgnoreMixedContent>
<w:AlwaysShowPlaceholderText>false</w:AlwaysShowPlaceholderText>
<w:DoNotPromoteQF />
<w:LidThemeOther>EN-US</w:LidThemeOther>
<w:LidThemeAsian>X-NONE</w:LidThemeAsian>
<w:LidThemeComplexScript>X-NONE</w:LidThemeComplexScript>
<w:Compatibility>
<w:BreakWrappedTables />
<w:SnapToGridInCell />
<w:WrapTextWithPunct />
<w:UseAsianBreakRules />
<w:DontGrowAutofit />
<w:SplitPgBreakAndParaMark />
<w:DontVertAlignCellWithSp />
<w:DontBreakConstrainedForcedTables />
<w:DontVertAlignInTxbx />
<w:Word11KerningPairs />
<w:CachedColBalance />
</w:Compatibility>
<m:mathPr>
<m:mathFont m:val="Cambria Math" />
<m:brkBin m:val="before" />
<m:brkBinSub m:val="&#45;-" />
<m:smallFrac m:val="off" />
<m:dispDef />
<m:lMargin m:val="0″ />
<m:rMargin m:val="0″ />
<m:defJc m:val="centerGroup" />
<m:wrapIndent m:val="1440″ />
<m:intLim m:val="subSup" />
<m:naryLim m:val="undOvr" />
</m:mathPr></w:WordDocument>
</xml><![endif]–><!–[if gte mso 9]><xml>
<w:LatentStyles DefLockedState="false" DefUnhideWhenUsed="true"
DefSemiHidden="true" DefQFormat="false" DefPriority="99″
LatentStyleCount="267″>
<w:LsdException Locked="false" Priority="0″ SemiHidden="false"
UnhideWhenUsed="false" QFormat="true" Name="Normal" />
<w:LsdException Locked="false" Priority="9″ SemiHidden="false"
UnhideWhenUsed="false" QFormat="true" Name="heading 1″ />
<w:LsdException Locked="false" Priority="9″ QFormat="true" Name="heading 2″ />
<w:LsdException Locked="false" Priority="9″ QFormat="true" Name="heading 3″ />
<w:LsdException Locked="false" Priority="9″ QFormat="true" Name="heading 4″ />
<w:LsdException Locked="false" Priority="9″ QFormat="true" Name="heading 5″ />
<w:LsdException Locked="false" Priority="9″ QFormat="true" Name="heading 6″ />
<w:LsdException Locked="false" Priority="9″ QFormat="true" Name="heading 7″ />
<w:LsdException Locked="false" Priority="9″ QFormat="true" Name="heading 8″ />
<w:LsdException Locked="false" Priority="9″ QFormat="true" Name="heading 9″ />
<w:LsdException Locked="false" Priority="39″ Name="toc 1″ />
<w:LsdException Locked="false" Priority="39″ Name="toc 2″ />
<w:LsdException Locked="false" Priority="39″ Name="toc 3″ />
<w:LsdException Locked="false" Priority="39″ Name="toc 4″ />
<w:LsdException Locked="false" Priority="39″ Name="toc 5″ />
<w:LsdException Locked="false" Priority="39″ Name="toc 6″ />
<w:LsdException Locked="false" Priority="39″ Name="toc 7″ />
<w:LsdException Locked="false" Priority="39″ Name="toc 8″ />
<w:LsdException Locked="false" Priority="39″ Name="toc 9″ />
<w:LsdException Locked="false" Priority="35″ QFormat="true" Name="caption" />
<w:LsdException Locked="false" Priority="10″ SemiHidden="false"
UnhideWhenUsed="false" QFormat="true" Name="Title" />
<w:LsdException Locked="false" Priority="1″ Name="Default Paragraph Font" />
<w:LsdException Locked="false" Priority="11″ SemiHidden="false"
UnhideWhenUsed="false" QFormat="true" Name="Subtitle" />
<w:LsdException Locked="false" Priority="22″ SemiHidden="false"
UnhideWhenUsed="false" QFormat="true" Name="Strong" />
<w:LsdException Locked="false" Priority="20″ SemiHidden="false"
UnhideWhenUsed="false" QFormat="true" Name="Emphasis" />
<w:LsdException Locked="false" Priority="59″ SemiHidden="false"
UnhideWhenUsed="false" Name="Table Grid" />
<w:LsdException Locked="false" UnhideWhenUsed="false" Name="Placeholder Text" />
<w:LsdException Locked="false" Priority="1″ SemiHidden="false"
UnhideWhenUsed="false" QFormat="true" Name="No Spacing" />
<w:LsdException Locked="false" Priority="60″ SemiHidden="false"
UnhideWhenUsed="false" Name="Light Shading" />
<w:LsdException Locked="false" Priority="61″ SemiHidden="false"
UnhideWhenUsed="false" Name="Light List" />
<w:LsdException Locked="false" Priority="62″ SemiHidden="false"
UnhideWhenUsed="false" Name="Light Grid" />
<w:LsdException Locked="false" Priority="63″ SemiHidden="false"
UnhideWhenUsed="false" Name="Medium Shading 1″ />
<w:LsdException Locked="false" Priority="64″ SemiHidden="false"
UnhideWhenUsed="false" Name="Medium Shading 2″ />
<w:LsdException Locked="false" Priority="65″ SemiHidden="false"
UnhideWhenUsed="false" Name="Medium List 1″ />
<w:LsdException Locked="false" Priority="66″ SemiHidden="false"
UnhideWhenUsed="false" Name="Medium List 2″ />
<w:LsdException Locked="false" Priority="67″ SemiHidden="false"
UnhideWhenUsed="false" Name="Medium Grid 1″ />
<w:LsdException Locked="false" Priority="68″ SemiHidden="false"
UnhideWhenUsed="false" Name="Medium Grid 2″ />
<w:LsdException Locked="false" Priority="69″ SemiHidden="false"
UnhideWhenUsed="false" Name="Medium Grid 3″ />
<w:LsdException Locked="false" Priority="70″ SemiHidden="false"
UnhideWhenUsed="false" Name="Dark List" />
<w:LsdException Locked="false" Priority="71″ SemiHidden="false"
UnhideWhenUsed="false" Name="Colorful Shading" />
<w:LsdException Locked="false" Priority="72″ SemiHidden="false"
UnhideWhenUsed="false" Name="Colorful List" />
<w:LsdException Locked="false" Priority="73″ SemiHidden="false"
UnhideWhenUsed="false" Name="Colorful Grid" />
<w:LsdException Locked="false" Priority="60″ SemiHidden="false"
UnhideWhenUsed="false" Name="Light Shading Accent 1″ />
<w:LsdException Locked="false" Priority="61″ SemiHidden="false"
UnhideWhenUsed="false" Name="Light List Accent 1″ />
<w:LsdException Locked="false" Priority="62″ SemiHidden="false"
UnhideWhenUsed="false" Name="Light Grid Accent 1″ />
<w:LsdException Locked="false" Priority="63″ SemiHidden="false"
UnhideWhenUsed="false" Name="Medium Shading 1 Accent 1″ />
<w:LsdException Locked="false" Priority="64″ SemiHidden="false"
UnhideWhenUsed="false" Name="Medium Shading 2 Accent 1″ />
<w:LsdException Locked="false" Priority="65″ SemiHidden="false"
UnhideWhenUsed="false" Name="Medium List 1 Accent 1″ />
<w:LsdException Locked="false" UnhideWhenUsed="false" Name="Revision" />
<w:LsdException Locked="false" Priority="34″ SemiHidden="false"
UnhideWhenUsed="false" QFormat="true" Name="List Paragraph" />
<w:LsdException Locked="false" Priority="29″ SemiHidden="false"
UnhideWhenUsed="false" QFormat="true" Name="Quote" />
<w:LsdException Locked="false" Priority="30″ SemiHidden="false"
UnhideWhenUsed="false" QFormat="true" Name="Intense Quote" />
<w:LsdException Locked="false" Priority="66″ SemiHidden="false"
UnhideWhenUsed="false" Name="Medium List 2 Accent 1″ />
<w:LsdException Locked="false" Priority="67″ SemiHidden="false"
UnhideWhenUsed="false" Name="Medium Grid 1 Accent 1″ />
<w:LsdException Locked="false" Priority="68″ SemiHidden="false"
UnhideWhenUsed="false" Name="Medium Grid 2 Accent 1″ />
<w:LsdException Locked="false" Priority="69″ SemiHidden="false"
UnhideWhenUsed="false" Name="Medium Grid 3 Accent 1″ />
<w:LsdException Locked="false" Priority="70″ SemiHidden="false"
UnhideWhenUsed="false" Name="Dark List Accent 1″ />
<w:LsdException Locked="false" Priority="71″ SemiHidden="false"
UnhideWhenUsed="false" Name="Colorful Shading Accent 1″ />
<w:LsdException Locked="false" Priority="72″ SemiHidden="false"
UnhideWhenUsed="false" Name="Colorful List Accent 1″ />
<w:LsdException Locked="false" Priority="73″ SemiHidden="false"
UnhideWhenUsed="false" Name="Colorful Grid Accent 1″ />
<w:LsdException Locked="false" Priority="60″ SemiHidden="false"
UnhideWhenUsed="false" Name="Light Shading Accent 2″ />
<w:LsdException Locked="false" Priority="61″ SemiHidden="false"
UnhideWhenUsed="false" Name="Light List Accent 2″ />
<w:LsdException Locked="false" Priority="62″ SemiHidden="false"
UnhideWhenUsed="false" Name="Light Grid Accent 2″ />
<w:LsdException Locked="false" Priority="63″ SemiHidden="false"
UnhideWhenUsed="false" Name="Medium Shading 1 Accent 2″ />
<w:LsdException Locked="false" Priority="64″ SemiHidden="false"
UnhideWhenUsed="false" Name="Medium Shading 2 Accent 2″ />
<w:LsdException Locked="false" Priority="65″ SemiHidden="false"
UnhideWhenUsed="false" Name="Medium List 1 Accent 2″ />
<w:LsdException Locked="false" Priority="66″ SemiHidden="false"
UnhideWhenUsed="false" Name="Medium List 2 Accent 2″ />
<w:LsdException Locked="false" Priority="67″ SemiHidden="false"
UnhideWhenUsed="false" Name="Medium Grid 1 Accent 2″ />
<w:LsdException Locked="false" Priority="68″ SemiHidden="false"
UnhideWhenUsed="false" Name="Medium Grid 2 Accent 2″ />
<w:LsdException Locked="false" Priority="69″ SemiHidden="false"
UnhideWhenUsed="false" Name="Medium Grid 3 Accent 2″ />
<w:LsdException Locked="false" Priority="70″ SemiHidden="false"
UnhideWhenUsed="false" Name="Dark List Accent 2″ />
<w:LsdException Locked="false" Priority="71″ SemiHidden="false"
UnhideWhenUsed="false" Name="Colorful Shading Accent 2″ />
<w:LsdException Locked="false" Priority="72″ SemiHidden="false"
UnhideWhenUsed="false" Name="Colorful List Accent 2″ />
<w:LsdException Locked="false" Priority="73″ SemiHidden="false"
UnhideWhenUsed="false" Name="Colorful Grid Accent 2″ />
<w:LsdException Locked="false" Priority="60″ SemiHidden="false"
UnhideWhenUsed="false" Name="Light Shading Accent 3″ />
<w:LsdException Locked="false" Priority="61″ SemiHidden="false"
UnhideWhenUsed="false" Name="Light List Accent 3″ />
<w:LsdException Locked="false" Priority="62″ SemiHidden="false"
UnhideWhenUsed="false" Name="Light Grid Accent 3″ />
<w:LsdException Locked="false" Priority="63″ SemiHidden="false"
UnhideWhenUsed="false" Name="Medium Shading 1 Accent 3″ />
<w:LsdException Locked="false" Priority="64″ SemiHidden="false"
UnhideWhenUsed="false" Name="Medium Shading 2 Accent 3″ />
<w:LsdException Locked="false" Priority="65″ SemiHidden="false"
UnhideWhenUsed="false" Name="Medium List 1 Accent 3″ />
<w:LsdException Locked="false" Priority="66″ SemiHidden="false"
UnhideWhenUsed="false" Name="Medium List 2 Accent 3″ />
<w:LsdException Locked="false" Priority="67″ SemiHidden="false"
UnhideWhenUsed="false" Name="Medium Grid 1 Accent 3″ />
<w:LsdException Locked="false" Priority="68″ SemiHidden="false"
UnhideWhenUsed="false" Name="Medium Grid 2 Accent 3″ />
<w:LsdException Locked="false" Priority="69″ SemiHidden="false"
UnhideWhenUsed="false" Name="Medium Grid 3 Accent 3″ />
<w:LsdException Locked="false" Priority="70″ SemiHidden="false"
UnhideWhenUsed="false" Name="Dark List Accent 3″ />
<w:LsdException Locked="false" Priority="71″ SemiHidden="false"
UnhideWhenUsed="false" Name="Colorful Shading Accent 3″ />
<w:LsdException Locked="false" Priority="72″ SemiHidden="false"
UnhideWhenUsed="false" Name="Colorful List Accent 3″ />
<w:LsdException Locked="false" Priority="73″ SemiHidden="false"
UnhideWhenUsed="false" Name="Colorful Grid Accent 3″ />
<w:LsdException Locked="false" Priority="60″ SemiHidden="false"
UnhideWhenUsed="false" Name="Light Shading Accent 4″ />
<w:LsdException Locked="false" Priority="61″ SemiHidden="false"
UnhideWhenUsed="false" Name="Light List Accent 4″ />
<w:LsdException Locked="false" Priority="62″ SemiHidden="false"
UnhideWhenUsed="false" Name="Light Grid Accent 4″ />
<w:LsdException Locked="false" Priority="63″ SemiHidden="false"
UnhideWhenUsed="false" Name="Medium Shading 1 Accent 4″ />
<w:LsdException Locked="false" Priority="64″ SemiHidden="false"
UnhideWhenUsed="false" Name="Medium Shading 2 Accent 4″ />
<w:LsdException Locked="false" Priority="65″ SemiHidden="false"
UnhideWhenUsed="false" Name="Medium List 1 Accent 4″ />
<w:LsdException Locked="false" Priority="66″ SemiHidden="false"
UnhideWhenUsed="false" Name="Medium List 2 Accent 4″ />
<w:LsdException Locked="false" Priority="67″ SemiHidden="false"
UnhideWhenUsed="false" Name="Medium Grid 1 Accent 4″ />
<w:LsdException Locked="false" Priority="68″ SemiHidden="false"
UnhideWhenUsed="false" Name="Medium Grid 2 Accent 4″ />
<w:LsdException Locked="false" Priority="69″ SemiHidden="false"
UnhideWhenUsed="false" Name="Medium Grid 3 Accent 4″ />
<w:LsdException Locked="false" Priority="70″ SemiHidden="false"
UnhideWhenUsed="false" Name="Dark List Accent 4″ />
<w:LsdException Locked="false" Priority="71″ SemiHidden="false"
UnhideWhenUsed="false" Name="Colorful Shading Accent 4″ />
<w:LsdException Locked="false" Priority="72″ SemiHidden="false"
UnhideWhenUsed="false" Name="Colorful List Accent 4″ />
<w:LsdException Locked="false" Priority="73″ SemiHidden="false"
UnhideWhenUsed="false" Name="Colorful Grid Accent 4″ />
<w:LsdException Locked="false" Priority="60″ SemiHidden="false"
UnhideWhenUsed="false" Name="Light Shading Accent 5″ />
<w:LsdException Locked="false" Priority="61″ SemiHidden="false"
UnhideWhenUsed="false" Name="Light List Accent 5″ />
<w:LsdException Locked="false" Priority="62″ SemiHidden="false"
UnhideWhenUsed="false" Name="Light Grid Accent 5″ />
<w:LsdException Locked="false" Priority="63″ SemiHidden="false"
UnhideWhenUsed="false" Name="Medium Shading 1 Accent 5″ />
<w:LsdException Locked="false" Priority="64″ SemiHidden="false"
UnhideWhenUsed="false" Name="Medium Shading 2 Accent 5″ />
<w:LsdException Locked="false" Priority="65″ SemiHidden="false"
UnhideWhenUsed="false" Name="Medium List 1 Accent 5″ />
<w:LsdException Locked="false" Priority="66″ SemiHidden="false"
UnhideWhenUsed="false" Name="Medium List 2 Accent 5″ />
<w:LsdException Locked="false" Priority="67″ SemiHidden="false"
UnhideWhenUsed="false" Name="Medium Grid 1 Accent 5″ />
<w:LsdException Locked="false" Priority="68″ SemiHidden="false"
UnhideWhenUsed="false" Name="Medium Grid 2 Accent 5″ />
<w:LsdException Locked="false" Priority="69″ SemiHidden="false"
UnhideWhenUsed="false" Name="Medium Grid 3 Accent 5″ />
<w:LsdException Locked="false" Priority="70″ SemiHidden="false"
UnhideWhenUsed="false" Name="Dark List Accent 5″ />
<w:LsdException Locked="false" Priority="71″ SemiHidden="false"
UnhideWhenUsed="false" Name="Colorful Shading Accent 5″ />
<w:LsdException Locked="false" Priority="72″ SemiHidden="false"
UnhideWhenUsed="false" Name="Colorful List Accent 5″ />
<w:LsdException Locked="false" Priority="73″ SemiHidden="false"
UnhideWhenUsed="false" Name="Colorful Grid Accent 5″ />
<w:LsdException Locked="false" Priority="60″ SemiHidden="false"
UnhideWhenUsed="false" Name="Light Shading Accent 6″ />
<w:LsdException Locked="false" Priority="61″ SemiHidden="false"
UnhideWhenUsed="false" Name="Light List Accent 6″ />
<w:LsdException Locked="false" Priority="62″ SemiHidden="false"
UnhideWhenUsed="false" Name="Light Grid Accent 6″ />
<w:LsdException Locked="false" Priority="63″ SemiHidden="false"
UnhideWhenUsed="false" Name="Medium Shading 1 Accent 6″ />
<w:LsdException Locked="false" Priority="64″ SemiHidden="false"
UnhideWhenUsed="false" Name="Medium Shading 2 Accent 6″ />
<w:LsdException Locked="false" Priority="65″ SemiHidden="false"
UnhideWhenUsed="false" Name="Medium List 1 Accent 6″ />
<w:LsdException Locked="false" Priority="66″ SemiHidden="false"
UnhideWhenUsed="false" Name="Medium List 2 Accent 6″ />
<w:LsdException Locked="false" Priority="67″ SemiHidden="false"
UnhideWhenUsed="false" Name="Medium Grid 1 Accent 6″ />
<w:LsdException Locked="false" Priority="68″ SemiHidden="false"
UnhideWhenUsed="false" Name="Medium Grid 2 Accent 6″ />
<w:LsdException Locked="false" Priority="69″ SemiHidden="false"
UnhideWhenUsed="false" Name="Medium Grid 3 Accent 6″ />
<w:LsdException Locked="false" Priority="70″ SemiHidden="false"
UnhideWhenUsed="false" Name="Dark List Accent 6″ />
<w:LsdException Locked="false" Priority="71″ SemiHidden="false"
UnhideWhenUsed="false" Name="Colorful Shading Accent 6″ />
<w:LsdException Locked="false" Priority="72″ SemiHidden="false"
UnhideWhenUsed="false" Name="Colorful List Accent 6″ />
<w:LsdException Locked="false" Priority="73″ SemiHidden="false"
UnhideWhenUsed="false" Name="Colorful Grid Accent 6″ />
<w:LsdException Locked="false" Priority="19″ SemiHidden="false"
UnhideWhenUsed="false" QFormat="true" Name="Subtle Emphasis" />
<w:LsdException Locked="false" Priority="21″ SemiHidden="false"
UnhideWhenUsed="false" QFormat="true" Name="Intense Emphasis" />
<w:LsdException Locked="false" Priority="31″ SemiHidden="false"
UnhideWhenUsed="false" QFormat="true" Name="Subtle Reference" />
<w:LsdException Locked="false" Priority="32″ SemiHidden="false"
UnhideWhenUsed="false" QFormat="true" Name="Intense Reference" />
<w:LsdException Locked="false" Priority="33″ SemiHidden="false"
UnhideWhenUsed="false" QFormat="true" Name="Book Title" />
<w:LsdException Locked="false" Priority="37″ Name="Bibliography" />
<w:LsdException Locked="false" Priority="39″ QFormat="true" Name="TOC Heading" />
</w:LatentStyles>
</xml><![endif]–><!–[if gte mso 10]>
<style>
/* Style Definitions */
table.MsoNormalTable
{mso-style-name:"Table Normal";
mso-tstyle-rowband-size:0;
mso-tstyle-colband-size:0;
mso-style-noshow:yes;
mso-style-priority:99;
mso-style-qformat:yes;
mso-style-parent:"";
mso-padding-alt:0in 5.4pt 0in 5.4pt;
mso-para-margin-top:0in;
mso-para-margin-right:0in;
mso-para-margin-bottom:10.0pt;
mso-para-margin-left:0in;
line-height:115%;
mso-pagination:widow-orphan;
font-size:11.0pt;
font-family:"Calibri","sans-serif";
mso-ascii-font-family:Calibri;
mso-ascii-theme-font:minor-latin;
mso-fareast-font-family:"Times New Roman";
mso-fareast-theme-font:minor-fareast;
mso-hansi-font-family:Calibri;
mso-hansi-theme-font:minor-latin;}
</style>
<![endif]–> For more information, pictures, and stories on the renovation of Chief Shakes Tribal House you can visit their Facebook page at Shakes Island Renovation project.
© Copyright, Wrangell Radio Group