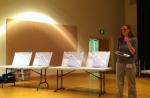 WRANGELL, ALASKA
The Alaska Department of Transportation recently visited Wrangell to present their 2011-2012 scoping report to the community. The report outlines a number of possible transportation plans for the region's future. But after three stellar years financially the Alaska Department of Transportation is expecting some major cuts in federal funding for capital transportation projects.
"As folks listen to what's going on in Washington D.C. with the budget problems we are having, there its probably no surprise, but it's a little disheartening that we are going to be part of that cut." That's Marine System's Planner Jim Potdevin. He says along with an expected 30% cut in capital funding, projections are also showing a decline in southeast's population in the next few decades, something he says will effect transportation in the region.
"Right now we see Department of Labor and Workforce Development projections showing that southeast communities are going to go from 69,000 people in the year 2009 to roughly 59,000 people in the year 2034, which is a fairly big drop. But it's also showing the state of Alaska population continuing to grow. Overall we are going to have fewer people in southeast which means fewer people needing transportation," he says.
The scoping report offers six alternatives as potential options for southeast transportation. They included maintaining the existing system, capacity management on the mainline ferries, maximizing use of the existing roads, development of the Alaska Class ferry, work on highway route seven, as well as a no action alternative.
At Tuesday's October 18th scoping meeting in Wrangell, members of community voiced concerns regarding school travel and ferry routes to what Alaska Marine Highway service cuts could mean for Wrangell. Potdevin says one alternative would be to incorporate smaller ferry services throughout Southeast communities, which he says could boost local economies.
"If we go with the smaller shuttle ferries, they may not employ as many people as the larger main liners, which could happen in the next 20-years if we went that way. But the jobs would go from the ships to the shore, so if you need more hotel space or restaurants on Prince of Wales Island more jobs would show up on shore, and they would probably come out of the marine highway, because the marine highway would have smaller ships with smaller crews," he says.
So far the Alaska Department of Transportation has visited, Yakutat, Skagway, Haines, Sitka, Juneau, Petersburg, Ketchikan, and Craig. They plan to visit to Metlakatla and Angoon in the weeks to come.
The public comment period for the scoping report is open until November 4th. At that time ADOT will begin reviewing public comments to develop a preferred alternative. ADOT expects to have a plan drafted for public review by the next year. To make a public comment you can e-mail ADOT at dot.satp@alaska.gov.
© Copyright, Wrangell Radio Group