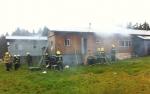 WRANGELL, ALASKA
The Wrangell Fire Department's first engine was at the scene within three and a half minutes of the call, at that time residents Irene Thelander and Jim Goldsbury escaped safely from their trailer home. Fire Chief Tim Buness says in minutes twenty-six of Wrangell's volunteer fire fighters arrived on scene to assist to the fire.
"We were able to make entry and get it knocked down with minimal damage except for the actual fire damage itself," he says.
The fire was contained to the back bedroom and bathroom of the trailer. To put out the fire the crew used compressed air foam a new feature offered on the Wrangell fire engine, which Buness says made a big difference in extinguishing Friday's trailer fire.
"By using compressed air foam we use a lot less water to do the same job. On the fire today we used 42-gallons of water. Normally on a hand line you can flow 120 to 125 gallons per minute so it doesn't take a lot of time for flooding. The foam does much better job at cooling than the just straight water does," he says.
Fire Chief Buness notes trailers are highly flammable and once a fire starts in one, they often burn rapidly. So with five trailer parks in Wrangell, he encourages everyone to make sure they have working smoke detectors in their homes, and do regular maintenance checks.
The Wrangell Fire Department considers Friday's fire accidental, and at this time is still investigating the cause.
© Copyright, Wrangell Radio Group