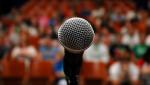 WRANGELL, ALASKA
Events featured at the tournament include debate, extemporaneous speaking, dramatic interpretation, readers theater and pantomime.
High School junior Haley Reed is on the D-D-F team and will be participating in the readers theater and extemporaneous commentary events this weekend. She says the tournament is a good chance for the public to check out the team and find out what D-D-F is all about.
"I think people should support the  Drama Debate and Forensics team because over the years the team has shrunk. And this is actually the biggest team we have had in a long time. Basically this is a good chance to see people's talents other than sports and show people just how amazing drama, debate, and forensics is," she says.
Coach Mike Symons is still looking for local judges for the tournament. If interested contact the high school at: 907-874-3395. The event will start Friday, November 11th at 3:30 p.m. in the Wrangell High School. The public is encouraged to attend.
© Copyright, Wrangell Radio Group