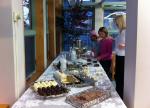 WRANGELL, ALASKA
Whether it's books, magazine, movies, or a little peace and quite, library enthusiasts' young and old joined Thursday (11/10) to celebrate Wrangell's Irene Ingle Library's 90th birthday.
"If it wasn't for our staff or the community's support, you wouldn't have a library like Wrangell has." That's Library Director Kay Jaybusch. She says the library may be 90-years-old, but is definitely not slowing down. Jaybusch has been the library director for 30-years and says over the years she seen it increase in size and services. From the expansion of the facility to the increase in summer readers, she says the library really relies on public support and suggestion.
"Adults and kids now are starting to feel more comfortable making suggestions and we try to encourage that especially during the school visits," she says.
The library will be closed this week to upgrade the old card catalog to a new automated system. The new system will be computerizing the card catalog and will allow the public to see what books the library has from computers in the library as well as from home. Other features include checking out books, placing holds, and even viewing book fines. Jaybusch says the public will be able to search books by topic and view book covers something she hopes will expand readership.
"I think it will certainly open things up for them. If they're looking for books on pets, it will show them other pet book options as well as the cover, which will introduce them to different types of books instead of just being locked into one," she says.
The automation system is funded through the state, USDA, and the Rasmussen foundation. Hired to install the system is The Library Corporation based out of West Virginia as well as a number of local part time positions to input the books during the installation process.
The Library will be closed November 14th-18th for staff training. For more information on the library automation system you can contact Director Kay Jabusch at 907-874-3535.
© Copyright, Wrangell Radio Group