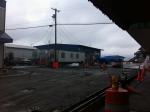 Wrangell's Downtown Revitalization project continues near city dock on Front Street, but city officials and business owners want the road work to stop now.
"You know to survive in retail you need to be up and running and you need to make it convenient for customers to come to your business and right now that's not the case."
That's business owner Jeff Angerman, he owns Angerman's Inc and Angerman's Outlet store on the corner of Wrangell's downtown Front Street. Since August the street in front of Angerman's store has been torn up while crews work with heavy machinery to install wires and pave the road and sidewalks. But with phase one of the project not yet complete and the holiday season only a days away business owners on that side of town want the road work to come to an end.
Recently City Manager Timothy Rooney wrote a letter to State Representative Peggy Wilson and Senator Bert Stedman requesting immediate assistance in obtaining a winter closure for the project. In the letter Rooney states that the project is already 6-weeks behind schedule, and he says it's important for the city to make sure businesses are not negatively impacted during their busiest season.
"It became evident as winter was approaching that the contractor was having an inability to meet effective deadlines and business owners got concerned, rightfully so that they were going to be affected by a winter shutdown. For some of them, up to a 3rd of what they bring in, in a year happens between Thanksgiving and the Christmas holiday and that's always been important to us to preserve their ability to do business which has been hampered since August," he says.
Mathew McGuan is the Interim Project Engineer. He says at this time McGraw Custom Construction and the Department of Transportation are working to come to an agreement on a closure date.
"At this point all parties are working towards a temporary shutdown for the winter. We do not have that in place yet but we are working towards that," he says.
Currently road crews are pouring cement for the curbs and sidewalks, and McGuan says work will continue on Wednesday, November 23rd, then break for the holiday weekend, and start again on Monday, November 28th.
As for the businesses, Jeff Angerman says he just wants to see the paving on the sidewalks and roads complete by Thanksgiving, so his business can be easily accessible to customers and the street open for 'Midnight Madness' on December 2nd.
"It's 2-days from Thanksgiving, which is really the kick off season. So we are trying to work with the Department of Transportation, the contractor, and the City and Borough of Wrangell to get this thing mopped up and have our road open for the Christmas season, and then try to re-group and pick it back up in the spring," he says.
The next scheduled Downtown Revitalization progress meeting is December 1st at 10 a.m. in City Hall. All Engineer reports on the project can be found at www.wrangell.com.
© Copyright, Wrangell Radio Group