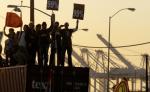 Occupy protests have been ongoing since September. Last week, West Coast Occupy groups moved from camps to ports. From Seattle to Los Angeles, barge operators and port workers had to shut down operations and delay barge traffic. That included the Port of Oakland.
"It's kind of amazing how some conceivably minor thing that we hear about on the news so far away in Oakland can have an effect on some place equally far away like Wrangell, Alaska," he says.
That's Clay Hammer, Wrangell's Municipal Light and Power superintendent. His department is waiting to start work on a major project that will switch all of Wrangell's street lights over to energy efficient LEDs.
This project is funded through a $95,000 grant from the Wrangell Cooperative Association and Alaska Energy Authority. It will replace 367 street lights, and cut electricity costs by about $20,000 a year. But the grant requires that the project be completed by August 2012 and Hammer says if protestors continue to delay barge deliveries in Oakland, Wrangell will be stuck with the bill.
"At this point, we are not sure if the components have made it through the port of Oakland yet. They need to make through the port then they need to get to Silicon Valley where the manufacturer will build them. And my understanding once they get components it won't take long to assemble them. But until components get to the port of Oakland, the entire project is set behind," he says.
Hammer says delivery delays to the Oakland Port have already set the LED light replacement project back by a month. Any more delays mean the city may not be able to make the grant deadline.
"What could end up happening is if we cannot get all the lights installed by August 31st we would have to then reimburse them for the cost of the lights," he says.
The lights are being manufactured by SeaTac Lighting LLC, based out of Seattle, Washington. Hammer says barges are a crucial shipping link between the Lower 48 to island communities in Southeast. That's something he thinks Occupy protestors should consider.
"It affects everything. Everything we get comes through the barge lines, it's either from barge or flown. And it's really expensive to fly. So majority comes through barges. And so anything that delays services to port, will delay bottom line for the community, everything that we have coming and going grocery, fuel, it's kind of our lifeline, so if they are messing with that they are messing with us," he says.
Economic Development Director Carol Rushmore wrote the grants for the project and says regardless of the delay, the project will benefit Wrangell.
"It will be a tremendous benefit to the community from a cost saving standpoint as well as an energy efficient standpoint, so we are looking forward to the project and how it all works out," she says.
Wrangell Municipal Light and Power hopes for the LED installation to begin sometime in early February.