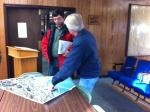 Weather permitting, work on phase two of Wrangell's downtown roads, is scheduled to begin next week. Crews will be starting the utility and paving of Front Street between Ottesen's True Value and the Diamond "C" Restaurant.
Project Engineer Eric Voorhees says for phase two they've developed new traffic control plans, in an effort to cut down on business interference.
"For this construction season we will be doing smaller segments for the temporary control plans and work zones. We think this will benefit traffic quite a bit and also have less of an impact to businesses at any given time," he says.
McGraw Custom Construction Superintendent Mike Ashton says crews will be using larger equipment this phase of the project, in order to do more of the work in less time. One advancement is a new rock chipper which will be used to tear up the existing concrete.
"This kind of work takes very big equipment. You're dealing with two lanes of a street, trying to do a lot of excavation. There is always a possibility that there will be collateral damage. But we're always taking steps and precautions to make sure that does not happen," he says.
In the next few weeks, crews will be chipping rock between Campbell Drive and McKinnon Street for the storm drains as well as connecting water services between the two streets. Concrete work is expected to start sometime in early spring. The next construction progress meeting is scheduled for February 2nd at 10 a.m. in City Hall.