https://kstk.org/modules/local_news/media/audio/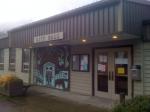 Under new business the assembly approved a contract with Jenson Yorba Architects for professional design services in the upcoming community gym renovation project. The project is slated to begin this spring and includes the installation of a new gym roof as well as asbestos removal throughout the facility. The project is funded through a grant from the Department of Housing and Urban Development, and is expected to cost $475,000.
Also approved is the hiring of Tec Pro–Solutions for repair work to Wrangell's heavily used pump station located near the power plant. City Manager Timothy Rooney says the current equipment is becoming an inconvenience to the city and he says it's time for an upgrade.
"The equipment is over 16-years-old. It's becoming unreliable. Every time we have a problem with it we are flying someone down from Anchorage. We need to simplify the process and get rid of it," he says.
Continuing in new business the assembly approved a contract with Ketchikan Ready Mix for services on the Etolin Street and Medical Campus Utilities Assistance project, as well as approved contract amendments with PND Engineers and R & M Engineering –Ketchikan for their contract and inspection services.
With this legislative session moving forward, the Wrangell Borough Assembly agreed to take action and write a letter supporting the Renewable Energy Grant Fund, House Bill 250. Last year Wrangell received $2-million from the grant for electrical boiler upgrades to municipal buildings. Mayor Jeremy Maxand stressed the importance of the bill, and its impact on future energy developments in Southeast.
"They've done a lot of really important energy projects around the state. This bill which is being proposed by the original author of the original renewable energy plan would commit $50-million each year for 10 years to make sure that those sorts of projects move forward," he says.
Also to kick off this legislative session, Assembly member Don McConachie will be accompanying Wrangell Medical Center staff on a trip later this month to Washington DC. The group will be lobbying and updating funders on the upcoming hospital replacement project.
And finally, City Clerk Christie Jamieson reminds the public that there will be three upcoming constituent teleconferences with legislators or their staff at the Wrangell Legislative Office. Staff with the Senate District-A office, Representative Peggy Wilson and Representative Kyle Johansen will be available to hear concerns or answer questions starting Monday, January 30th at 6 p.m.
The next Borough Assembly meeting is scheduled for February 14th at 7:00 p.m. in the Council Chambers.
© Copyright, Wrangell Radio Group