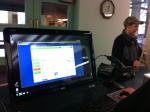 Walking into Wrangell's Irene Ingle Public Library you'll notice some things have changed. The old card catalog system is no more, and replacing the old 3×5 note cards are new computer monitor's that make checkout as quick as a click of a mouse.
Library Director Kay Jabusch says staff has been transferring information into the new automated system for months, and says things are already easier.
"In the older system if they had books due on four or five different days I would have to go through three- hundred cards to find their number, and hopefully I didn't miss one. Now you just pull up their name on the computer, highlight the books, and they're renewed for another couple weeks," she says.
Jabusch describes the new automated system as hands on and says it allows customers to reserve books online, as well as view ordered books before they even get to the library. Three new touch screen computers have been placed around the facility for customers to look up books and movies by title or phrase. As well as two touch screen computers at the front desk for staff use.
City Financial Director Jeff Jabusch says both the City and library staff spent a year acquiring grant funding for the automation project which totaled just under $127,000.
"The grants paid for all the hardware, programs, trainers, extra help hired to enter in all of the books and DVDs into the system, which took several months to do. And it's great to see them up and running," he says.
In charge of installing the automation system was The Library Corporation based out of West Virginia. TLC plans to showcase Wrangell's library at the upcoming Alaska Library Association Conference held in Fairbanks at the end of February. Library Director Kay Jabusch says she pleased with how the project turned out.
"We knew it was coming for a long time, most libraries are automated. And I think it's just so great that we ended up with one that we are really pleased with," she says.
At the end of February the Library will hold an open house for the public to check out the new system, and signup for a new library card.