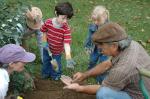 "The trees are a long term investment; the act of planting a fruit tree, is more than just putting the tree in the ground." That's Rico Montenegro, the Chief Arborist for the Fruit Tree Planting Foundation, a non-profit organization that works on a number of U.S. and international planting projects. Last week Montenegro made a stop in Wrangell, to present information on his foundation and answer questions regarding the upcoming "Community Take Root" orchard project.
"The community will come together as volunteers and physically be involved in the actual planting and maintaining of the orchard, because these orchards are going to be here a long time," he says.
Montenegro has worked with trees for more than 40-years, and travels the world teaching people basic planting, cultivating and restoration techniques.
"These trees are bred for one thing—to have lots of fruit. So there is a lot of work to make sure that the trees develop and to make sure they're maintained and can hold the weight of the fruit."
Montenegro says it's important to plant the trees early in the summer, so the roots have time to set. And to make sure the trees are watered regularly. As for Wrangell's extreme winter cold and harsh winds, he says it's not a problem. It just comes down to finding the right variety of fruit for the area. Montenegro will be bringing between 30 to 50 apple, pear, plum, and possibly peach trees to Wrangell.
"There's nothing like an apple right off the tree."That's Wrangell Medical Center Development Assistant Kris Reed. She says it took a consistent effort by the staff and community to reach the 25,000 online votes needed to receive the orchard.
She hopes the orchard will give more people in the community access to fresh fruits; something she says is not always easy to get in Southeast, Alaska.
"I think once people have a chance to taste the fresh apples there will be a lot of converts to fresh fruit. But the orchard will also be a place for kids to learn," she says.
In the next few months, Rico Montenegro will look in the Pacific Northwest for varieties of fruit trees that will be suitable for Southeast's climate.
Planting is scheduled for early June, and Montenegro encourages everyone to come out and help. The location of the orchard will be determined sometime in February. To find out more about the Fruit Tree Planting Foundation visit www.FTPF.org