https://kstk.org/modules/local_news/media/audio/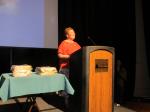 At a conference in Juneau earlier this month, the Alaska Head Start Association presented Carrie Wallace its 'Teacher of the Year' Award. She's worked for the early education program for 26-years and says its an honor to have received the award.
"For me it was very much a surprise. When you do this type of work that you love so much, it's an honor to be able to represent the community but also the Tlingit and Haida tribes," she says.
Wrangell's Head Start program recently celebrated its 25th birthday. Wallace is one of the founding employees. She started as the cook and then became the lead teacher 15 years ago. Now the program operates with Wallace, two aides, and janitorial services. Wallace says it's a small operation. But she says it takes a great deal of pride and hard work.
"I'm proud of our accomplishments and every time I see one of the young adults who have gone on and started their own business or graduated from college, I know they got their start here. So I have a lot of pride," she says.
Head Start is a national program that promotes school readiness and social development of children, as well as health and nutrition. Wrangell's program is offered to 20 students a year, ages 3 to 5. The program engages parents in their children's learning and helps parents and students with their education, literacy and employment goals.