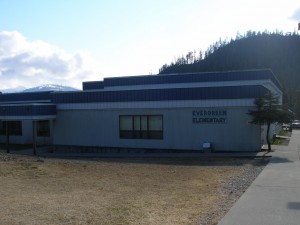 At this week's School Board meeting, the board approved the location of Wrangell's recently awarded community orchard. Wrangell was one of twenty communities to win Dryer's Fruit Bars' "Community Take Root" contest last year. The program gives trees to communities through a non-profit known as the Fruit Tree Planting Foundation. Wrangell will receive more than 30 trees and plant its first community orchard at Evergreen Elementary School. Charlotte Duren has more on the location and why school officials are excited about the opportunity.
Wrangell's Evergreen Elementary School will soon be the home to more than thirty apple, plum, and cherry trees. At Monday night's school board meeting, the school board approved the orchard's location, which will be on the north side of the elementary school, between the school and Bennett Street. Wrangell Medical Center Development Assistant Kris Reed says it's an ideal location for the orchard.
"The orchard is a community orchard and because so many people come in and out of school, I think more people will be comfortable going to that location. Also schools are organizations that "Communities Take Root" likes to help out," she says.
Reed says the orchard's location has potential to spur new learning opportunities for the students.
"It gives the teachers an opportunity to plan lessons around how fruit grows, things that could work with science classes and math classes, as well as writing projects in the spring on how trees change through the seasons," she says.
Wrangell School's Superintendent Richard Rhodes says now that the location has been determined the school will begin preparing to plant the trees. He says work will need to be done to the soil to make it planting ready and as well as removing some of the existing evergreen trees to make room for the fruit trees.
"It's an obligation as a community school that we step up and find ways that this orchard will help support the school. A week from Friday we will be talking with Principal Therese Ashton about how to integrate it with students, how it will be managed, as well as safety," he says.
The Orchard Committee will be meeting March 31st to begin the planning process. On June 30th, Community Take Root Organizer Rico Montenegro will be in Wrangell to plant the fruit trees. The community is invited to come out for the event and help plant the trees.
© Copyright, Wrangell Radio Group