Ketchikan Artist Sandy Shepard made a stop in Wrangell last week to show off some of her paintings during Wrangell's annual Bird Festival. Shepard spent Thursday in the classroom teaching K-12 students some techniques of her craft.
Artist Sandy Shepard has been painting most of her life, but over the past few years she says she's been inspired by nature and in particular the materials found in Southeast, Alaska. At Evergreen Elementary School, Shepard shows student Zachery the elements of making a collage.
"We cut out eagles for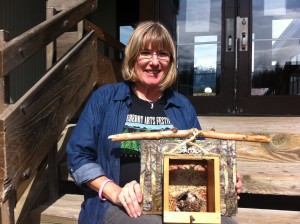 bird fest and we are using tissue paper and colored paper. I am showing them how to cut with serrated edge scissors to give the tissue paper interesting edges," she says.
Shepard worked with the students on bird themed collages using natural materials, which included everything from twigs and rocks to skunk cabbage found in Wrangell. Shepard says she was able to teach the students about using natural elements in their art, which she says can make for more unique collages.
"I started out just using water colors and wanted more texture. I then added colored pencil and still wanted more texture. Then I worked with acrylic paint and found out about encaustic. The pieces are now 3-dimensional with pieces of bark which makes it very interesting," she says.
While working with the High School students, Shepard taught the "encaustic" method, which involves using heated beeswax with paint and applying it to wood or canvas.  The Student's artwork was displayed at the Nolan Center during the weekends Bird Festival events. Shepard's work can be found at www.SandyShepard.com.