With two days' worth of supplies and camping gear, seven members of Boy Scout Troop 40  boarded a jet boat to spend the weekend cleaning up trash at Zarembo Island's Roosevelt Harbor and Deep Bay. "My husband and I were there about 6-weeks ago and we were appalled by all the trash, so we told the boys about it and they said lets go clean it up."
Scout Mom and Leader Kimberly Powell says the troop operates under a 'leave no trace' philosophy. She says after telling the scouts about the situation at the popular recreation spot, they were more than willing to help with the cleanup.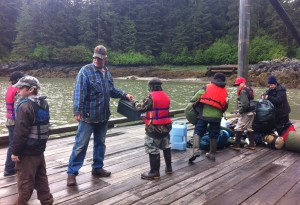 "I hope we do a lot of good, and help clean it up a lot." That's 14-year-old Scout Leader Curtis Wimberly. Curtis and six other scouts picked up approx. 100 lbs of trash each which included rotten boards, old tarps, scraps of plastic as well as 45 gallons of aluminums cans. "We are going to dispose of it properly instead of just throwing it on the ground,"he says.
The cleanup was done in partnership with the U.S. Forest Service and Boy Scout Troop 40. Boy Scout Quinn Wright says keeping the National Forest clean is a priority. "Trash is just polluting everything and we don't want it around all the stuff so it's just a good idea to clean it up," he says.
This week the Wrangell Boy Scouts will be heading up the Stikine River to spend a week picking up trash and learning about invasive weed management with the Southeast Alaska Conservation Council (SEACC).