Coffman Cove is hosting the second annual By the Sea Arts and Seafood festival on August 11 and 12, and they are still seeking participants. The festival will feature up to 60 vendors, the Prince of Wales Island traveling farmers' market, local seafood, and entertainment. The festival's chairperson Heather Hedges said the festival started with a community request for an art show. Now it's grown to include entertainment, like fish and logging poetry and poetry slams.
"Basically they're rhyming, but they're slamming on each other, if you will. It's pretty hilarious and they're really quite talented at it," she said about the group that will participate in the fish poetry slam.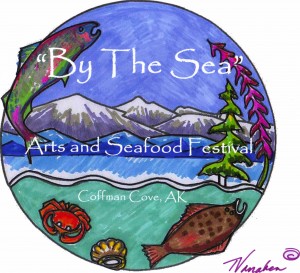 The schedule also includes a Battle of the Bands with a prize for the best band and the best fish song, though no bands have signed up yet. "So we need bands. We definitely need bands over here," Hedges commented.  As a backup, festival organizers are seeking a karaoke machine.
Other activities include kids' games like a Lucky Ducky Race down Dog Creek and hourly raffles. Vendors will be selling arts, crafts, local oysters, fried fish, and more.
You can still sign up to perform or to sell goods. To find out more information or seek helping getting over to the island, you can call 907-329-2233 or check out the festival's website.