Click here for iFriendly audio.
Another cruise ship season has come to an end in Wrangell, with the last ship departing last Thursday.
There were a total of 12 different ships that visited Wrangell this season.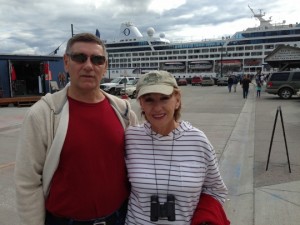 They ranged in size from the 104-foot Alaskan Dream Cruises to the 610-foot Silvershadow.
In terms of capacity, the Safari Quest had the fewest passengers at 22 with nine crew.
The Regatta had the highest capacity with 684 passengers and 400 crew.
The season began this year on Saturday, May 4th and lasted a total of 139 days.
The Safari Endeavor was the last ship of the season, coming to town on Thursday, September 19th.
Its arrival marked the end of summer and the start of blustery autumn weather. The ship faced winds and heavy rain.
Despite having trouble anchoring in one spot because of the weather, its ferry boats were able to run all its passengers to town and back.
And the visitors to Wrangell seemed to walk away happy, again.
As one Regatta passenger noted in July: "It's quiet, peaceful and friendly. It's Alaska."
Click here to hear more stories from the cruise ship, Regatta.