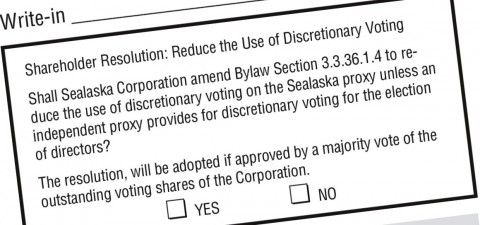 A measure before Sealaska shareholders could alter the way board elections are held. And that could bring leadership changes.
The measure comes as 13 shareholders compete for four board seats in the Southeast Alaska regional Native corporation's annual election.
The measure is a resolution proposing limits to what's called discretionary voting.
That's an option on Sealaska's proxy ballot, which lists candidates for the board of directors.
When shareholders check a box, they give the board the power to cast their ballots for whomever they see fit. And the board votes for its slate of incumbents seeking re-election.
"It's an unfair document because of the discretionary voting and that is what has kept all our directors in all of these years," says Mick Beasley.
He's a Juneau carver who's campaigned against discretionary voting. He's also one of this year's six independent board candidates.
Beasley authored the resolution that would largely eliminate that ballot option. Then, shareholders would pick and chose from the full list of candidates, including incumbents and their challengers.
"If this resolution passes and we amend our bylaws, it will make it equal voting rights for all shareholders," he says.
Sealaska's board opposes Beasley's measure.
"They would wipe out what Sealaska believes would otherwise be a valid vote," says Nicole Hallingstad.
She is Sealaska's communications vice president and corporate secretary.
"Those shareholders understand exactly what discretionary voting means and are offering their shares in support of the corporation. To remove that discretionary voting option would remove a choice that at least a quarter of our shareholders select on a regular basis," she says.
The resolution does not completely eliminate discretionary voting.
Beasley says it would be allowed when an independent group challenges the board and issues its own ballot.
"If there are two slates, two proxies, then discretionary voting is fair game. When there is only one proxy, and that's Sealaska's, they cannot use discretionary voting," he says.
Shareholders are rarely faced with two slates – and proxies. But this year, they are.
A group calling itself 4 Shareholders for Sealaska has sent out its own ballot and posted it online.
Margaret Nelson, Carlton Smith, Ross Soboleff and Karen Taug say their combined business experience could help make Sealaska profitable after several years of operational losses.
The corporate ballot lists board incumbents Sidney Edenshaw, Edward Thomas and Rosita Worl.
Spokeswoman Hallingstad says the three bring knowledge and history to Sealaska management.
"The stability of any corporation's board is something that's reviewed regularly by business partners (and) financial institutions. So, board stability is something that is of value outside of our shareholders," she says.
Longtime board member Byron Mallott is not seeking re-election because he's running for governor. That leaves an open board seat, with no incumbent, a rarity for Sealaska.
Six independent candidates, running outside of a slate, are also listed on the corporate ballot.
They're Myrna Gardner, Michelle McConkey, Will Micklin, Edward Sarabia Jr. and Ralph Wolfe, in addition to Beasley.
"Everybody was trying to keep it to one or two independents this year. But we're back to six or seven independents. It's just the nature of our shareholders," Beasley says.
The four top vote-getters will win  three-year terms on the 13-member board.
Results will be announced at Sealaska's annual meeting June 28th in Seattle.
Read the full proxy ballot with information about the board slate and independent candidates. 
Read the 4 Shareholders for Sealaska website, with information about their candidate slate.