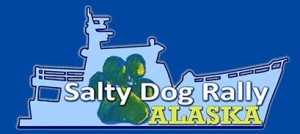 Forty yachts were supposed to travel through Southeast Alaska to spend this week in Wrangell, but what was called the Salty Dog Rally was canceled at the last minute.
Yacht owners from all over North America were expected to start their trip in Seattle and travel to Wrangell in a large group, making stops in different towns along the way. The Wrangell Chamber of Commerce started planning for the rally in January, but local business owners won't see an influx of yachters this week.
Wrangell Chamber of Commerce office manager Cyni Waddington said the cancellation was shocking and disappointing.
"We were really excited about it because it was just going to be an economic boom for us having all those different people here in Wrangell," Waddington said.
Waddington said although some money was put into the event, the real loss is the time and effort put into organizing activities. They included a dance performance at the Chief Shakes Tribal House, a golf tournament and a pub crawl.
"Aside from the sponsorship money, we've put in countless hours trying to get everything ready and prepared," Waddington said.
As an event sponsor, the Chamber of Commerce sent $2000 to rally organizers. The Chamber requested a refund, which it has yet to receive.
Waddington received an email less than two weeks ago notifying Wrangell of the cancellation.
Head rally organizer Dawny Pack wrote, "It has recently been brought to our attention that half of our rally boat owners do not have a clean/good bill of health, and there are a few other personal/family urgent circumstances."
The email urges current sponsors to sponsor the event in 2015.
Jake Harris, general manager at the Stikine Inn and Restaurant, said the cancellation won't have a huge effect on the business. But he still put a lot of time into planning for the rally participants.
"Unfortunately I think it's the residual business and the marketing that we would've received from these yachts coming through town that is gonna be the biggest loss," Harris said.
Harris said Chamber members communicated with rally organizers throughout the planning process, so they had no reason to think they would cancel.
"There's definitely gonna be some trust issues, to put it lightly, with the organizers of the event," Harris said.
The rally also planned to stop in Petersburg and Ketchikan.