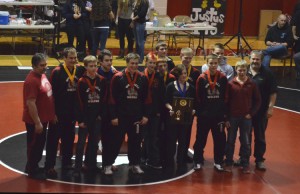 The Wrangell High School wrestling team took first place for 2A schools at the Southeast Region Five Championships in Wrangell Saturday.
It has been more than 20 years since Wrangell won the regional tournament.
Head Coach Jeffrey Rooney says 10 of Wrangell's 11 wrestlers qualified for the state championships.
"They really pulled through," Rooney said. "They had a phenomenal tournament. Everybody wrestled their best. Everybody really put it all out there and left it all on the mat. It was a great season."
Alisa Heller took first place in the 106 lb. weight class in Alaska's first-ever girls' tournament. She was also chosen as the outstanding wrestler of the girls' tournament.
Jeffrey Rooney Jr. won first in the 182 lb. bracket.
Orion Heller, JD Barratt, Ian Jenson, Sam Armstrong, Roger Miller, Darren Shilts, Justus Mikkelsen and Caleb Groshong also secured their spots at the state tournament Dec. 12.