The Wrangell Cooperative Association recently won federal funding to test shellfish from Wrangell beaches. The tribal government wants to make sure clams and cockles are still safe to eat after a sinking tug boat leaked fuel in the area last winter.
It was pouring rain on a beach south of Wrangell, and Angie Eldred was digging a hole in the ground at low tide.
"We're digging for various species of clam so that we can find some sample specimens," Eldred said.
Eldred and four other volunteers were collecting clams and cockles to test the popular local food source for contaminants.
"We're going to take some samples here at the 4 mile beach site, and then we're going to go to a test site over by the golf course where we're fairly certain there's been less environmental impact," Eldred said.
In January 2014, an anchored tug boat sank just south of this beach and leaked diesel fuel into the waters around Wrangell. That's why the Wrangell Cooperative Association wants to test the shellfish for diesel-range organics. Those are the chemical compounds that make up diesel fuel, and different compounds can have various effects on people and wildlife.
Chris Hatton is with the WCA's Indian Environmental General Assistance Program (IGAP). She is leading the shellfish testing project, and she said they just want to make sure the food source is safe.
"That's information that we share with the community," Hatton said. "People can continue to dig if they feel comfortable. They can educate themselves some more."
She used a GPS device to mark the exact location of the testing sites.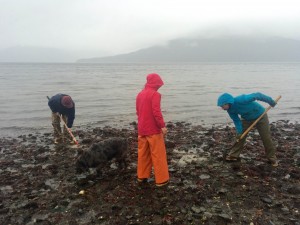 The beaches four to five miles south of town are popular sites for personal-use shellfish harvesting. Before long, two more groups of people joined the IGAP team on the beach. But they were digging for food, not test samples. They did not seem concerned.
At the time of last year's fuel spill, the Alaska Department of Environmental Conservation advised against harvesting shellfish in the area. But the department reversed that recommendation just a few days later because there was no evidence of contamination.
Hatton said it took a long time to get the project approved by the Environmental Protection Agency, which administers IGAP.
"It's just really nice to see things finally coming to fruition," Hatton said. "This project started earlier, and we had to go through some hoops with the EPA in terms of getting our quality assurance plan approved."
Guy Archibald is mining and clean water coordinator for the Southeast Alaska Conservation Council. He joined the shellfish dig and said the lab will also test for some heavy metals, including mercury.
"I'm pretty confident that we'll find the clams are fairly contaminant-free," Archibald said. "We just want to be sure. And it's always good to collect baseline data for years from now. If somebody wants to come back and try it again, they might be able to discern trends getting better or getting worse."
Archibald said projects like this empower communities.
"The best protectors of the resources are the people that live there. They know the most about it, and they should be the ones doing the work and doing the science."
After a morning of digging up cockles and clams, the volunteers shucked the shellfish and sent meat samples to a lab in Washington. They expect to receive test results in a few weeks.