A driver lost control of a vehicle in Wrangell Monday morning and took down at least 200 feet of fencing around a playground.
Wrangell Police Chief Doug McCloskey said the driver lost control on black ice on Zimovia Highway about five miles south of town and skidded into the Shoemaker Bay playground. There were no injuries.
Most of the chainlink fencing surrounding the playground was torn down by the vehicle, and some barrier posts were knocked out of the ground. Metal fence posts were bent all along the park's edge, and fencing was spread through the playground and grassy area.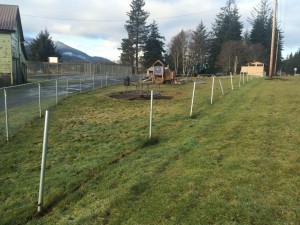 McCloskey said the cost of repairs is unknown. He said there could be legal consequences for the driver.
The accident occurred around 9 a.m. Monday morning.
Chief McCloskey urged Wrangell residents to watch out for black ice when driving in the morning.
The Parks and Recreation Department has closed the Shoemaker Bay playground until further notice.