A controversial dock project at the Anan Wildlife Observatory near Wrangell was scrapped last fall after it was found to be too expensive, and now the U.S. Forest Service has a new draft plan for accessing the observatory and for constructing additional improvements. The Wrangell Ranger District is asking for public input this month before moving forward with its construction plans.
Last year, the Forest Service proposed a dock as a necessary development to improve safety and access for visitors to the Anan Wildlife Observatory. But local tour operators opposed the dock as a waste of money and as a potential cause of safety problems.
USFS Outdoor Recreation Planner Dee Galla said the Wrangell Ranger District went forward with an environmental assessment and design for the dock.
"And it turns out once we decided that we wanted to build that dock–the design that it would take to make a dock functional the way we wanted it to function at Anan–it was too expensive to build it there," Galla said. "And we just did not have the budget to go into the design and construction it would take to provide a dock at that location."
The dock was supposed to cost between $250,000 and $500,000, but construction bids came in over that price.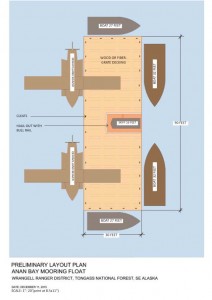 Galla said in lieu of that, the Forest Service is proposing a mooring float, which would be anchored in Anan Bay close to the staff float house.
She said people will probably continue to access Anan as they always have, by disembarking on the beach and walking up to the trailhead. But this would provide a new option for mooring boats and planes.
"That's the purpose, is to provide optional moorage for people that want to leave their vessels and not have to deal with the risky anchorage conditions that can happen out there," Galla said.
Pilots and boat operators would need to find their own way of getting between the float and the beach.
The float design is not complete, but it would be about 90 feet by 20 feet. It could accommodate two planes, two large boats and two smaller boats. And the float would be open to the public.
Galla said the district is looking for specialized advice on the mooring float design before moving on to contracting.
"A lesson learned from the dock project would be that we kind of got ahead of ourselves thinking that we would be able to come up with a feasible design that was within the costs that we had. And we didn't," Galla said. "So with this, we've taken this conceptual plan to a consulting engineering firm that specializes in marine facilities, and we're asking them to come back to us with any alterations they'd make to the design of the float itself."
Project team leader Eric Ouderkirk said the USFS does not have a cost estimate yet for the mooring float.
The float is one of several projects included in the new master plan for Anan, which is meant to guide the site's development over the next 10 years. It sets out priorities for construction projects at Anan while taking into account wildlife, habitat and cultural resources.
Galla said unloading tourists on the rocky beach can be difficult in certain conditions, and that issue is addressed in the master plan.
"By moving some rocks around and making it so that a boat or a plane can get into a smooth beach area. And then from that higher water landing, we would provide a pathway for walking so people don't have to go over rocky boulders," Galla said. "There will be a hopefully very visually unobtrusive path that people can follow to get them up that steep slope up to the trailhead."
The plan includes putting a new two-seat outhouse at the trailhead, replacing an old trail bridge, moving the outhouse at the observatory, and changing the site's human waste management system. It also proposes a bear habitat use survey and a cultural resources survey.
These are just some of the projects slated for construction in 2016 and 2017, but it's unclear how the Forest Service will pay for the improvements described in the master plan.
Randy Griffith said his recreation budget for the Wrangell district is so small this year that he is pulling funding from multiple facilities and programs to hire the staff needed to run Anan in the summer, and he is unable to hire a new Anan manager. He is not hiring any other seasonal crew members, so he is hoping to also use the Anan staff for other projects.
Griffith said the funding shortage will significantly affect the maintenance of cabins and other recreation sites on the district.
The Forest Service budgeted at least $110,000 for landscape architects to design the new master plan.
The Wrangell district is asking the public to submit comments by the end of February to help with finalizing the mooring float design and master plan.
Contact the district at 907-874-2323 to submit comments.
Click here to view Part One of the Anan master plan
Click here for Part Two of the Anan master plan
Click here for Part Three of the Anan master plan