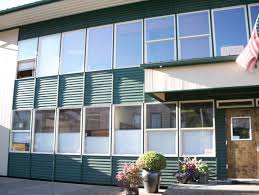 Public health offices in Haines and Wrangell are set to close this summer due to state budget cuts. But their services won't disappear completely. Nurses from other Southeast towns will occasionally travel to Haines and Wrangell to maintain the 'safety net' their agency aims to provide.
Both Haines and Wrangell have been without full-time, permanent nurses for a few months. Now, there's no question: those positions will not be filled. Juneau public health nurse Alison Brehmer broke the news to the Haines school board Tuesday night.
 "We have new recently that due to the budget we will not be able to staff the Haines public health center after July 1.
 We're having to make some difficult decisions."
Southeast Regional Nurse Manager Sarah Hargrave says the state public health system has taken a 25-percent cut over the past two years. Closing the one-nurse, one-office assistant centers in Haines and Wrangell was just one cost saving decision.
"We aim to continue and serve the most vulnerable in all our communities."
Hargrave says they'll continue to provide service through itinerant coverage. That means a nurse from Juneau, Petersburg or Ketchikan will visit Haines or Wrangell occasionally based on the need.  Hargrave describes some of the common services public health provides in Haines.
"In the past we've done a fair number of child health immunizations. We've done a fair number of child health immunization, we've done sexually transmitted infection care, screening and treatment, we've done family planning services for the Haines community, as well as adult immunizations."
Hargrave says the fact that there are other medical providers in Haines and Wrangell didn't impact the decision to close the offices.
"We try to act a safety net, so not to duplicate services provided by other agencies in town. We seek to serve those vulnerable people who might have difficulty accessing other primary care resources."
The budget-cut-fueled closures go into effect July 1. Haines residents in need of public health care can call the Juneau office at 465-3353. Wrangell patients can call the Ketchikan center at 225-4350.