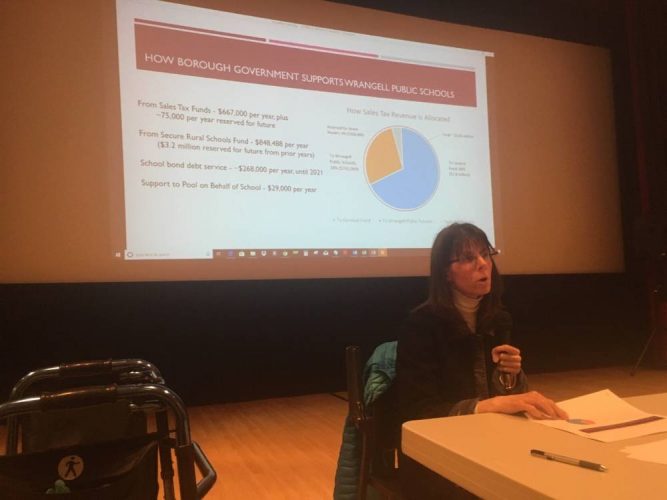 Governor Mike Dunleavy's proposed budget cuts could devastate local governments throughout Alaska. At a town hall meeting last night, city officials and House Representative Dan Ortiz explained what those cuts could look like for Wrangell.
"He is proudly announcing that he is not going to have to devise any type of state revenue source, while he is leaving communities with no option but to either raise local taxes and fees, rob municipal reserve funds, or outright cut services to our citizens," said Mayor Steve Prysunka.
The governor has proposed a $1.6 billion spending cut, which would slash allocations across the board.
City Manager Lisa Von Bargen tallied off what those cuts would look like for Wrangell.
She said Wrangell's harbor department could see a $300,000 cut. The harbor department has received funds from a shared fisheries tax that could go away. That would mean cuts to the department's budget and an increase in service fees.
The schools could see the biggest cut, roughly $1 million. The district currently operates on a $6 million budget.
The city allocates over half a million dollars to the schools, but it may need to give more to offset the state cut.
"At some point we have to cut education, or we have to cut general fund programs to help fund education, or we have to increase taxes, or we have to do a combination of those things to bridge that gap," Von Bargen said.
The city does have a 3.2 million reserve for the schools. The city has received federal Secure Rural Schools funding since 2009. Some of that was saved over the years.
"Although we have a possible education buffer right now … it cannot be used as a long-term solution," said Von Bargen.
State grants could also go to the wayside. Von Bargen says that's roughly 25,000 a year for the Nolan Center and public library. And there's no telling what future grant opportunities just won't exist. Shoemaker Harbor and Evergreen Avenue improvements were only possible through partial state funding.
The governor proposed a 75 percent cut to the Alaska Marine Highway System. Eighteen people in Wrangell work for the ferry system, those jobs could go away.
The governor has zeroed out funds for public broadcasting. That means KSTK could lose $75,000.
House District 36 Representative Dan Ortiz also spoke to the crowd. He's been a critic of the governor's budget. He said statewide municipalities would lose $578 million dollars.
Ortiz said this year, he doesn't anticipate the state to find new revenue sources. So whether to cut or fund services comes down to the PFDs.
"This year it's all about how much do we want to add back … compared to how much you would like to receive in a permanent fund dividend," said Ortiz.
The city says it will hold more town halls to revisit budgeting concerns. The state isn't expected to pass a budget anytime before June, when the city should already have a budget. Von Bargen said that means the city will have to be "nimble" and pass a budget, knowing it will have to be amended after the state finalizes their budget.