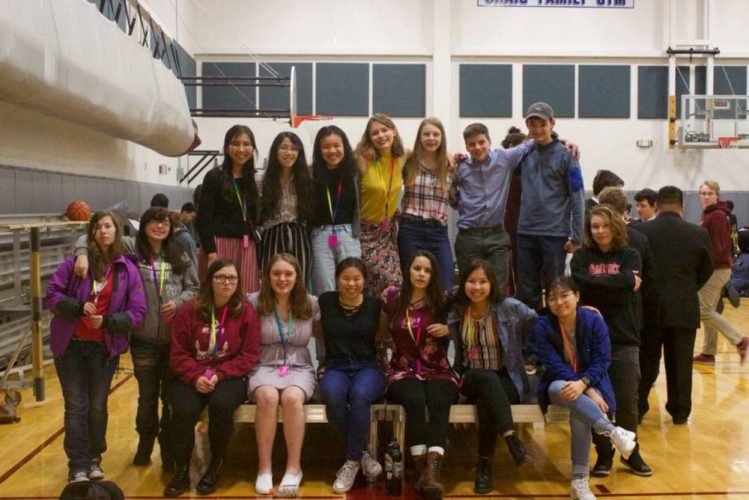 Last week, 18 Wrangell High School students traveled to Music Fest. For three days, student musicians throughout Southeast Alaska performed and studied a variety of musical topics. This year it was hosted in Ketchikan. Here's a typical day at Music Fest.
Kayhi students were in their classrooms studying math or English as usual. At the same time, hundreds of music students from all over Southeast congregated in the hallways of the same high school.
Every morning we listened to pieces prepared by small groups and soloists. Each Wrangell student was there to critique these performances. For the critique, students get "comments", which include feedback, or "superior" marks. Students call this the adjudication process.
Terra Hoyt plays alto saxophone for Wrangell.
"'Comments' is like you did all right, but, it was nothing special. And 'superior' is like, wow, that was really good," said Hoyt.
And then it was Wrangell's choir's turn to be adjudicated. Robyn Booker is known in Wrangell for being a fantastic singer, and even she was nervous.
"Just take that middle school fear of everyone judging you all the time and apply it to your life," said Booker.
Despite that middle school fear, the performance went well. Camille Kilpak, a Nevada Choir teacher and guest judge agreed. From there she worked with the choir, even if it meant looking a bit ridiculous.
She asked the students to squat or do a wall sit while singing.
"I promise it's not a punishment," said Kilpak.
You wouldn't do this on stage, obviously, but like any sport, you need drills. These make you practice the proper technique for a better performance.
"Wait we're you squatting? Because, man, I was feeling the burn," Kilpak said encouragingly.
Around noon, the jazz concert took place.
Wrangell High Jazz was the first to perform on the big stage for the judges. We got one "superior". I thought we had a rough beginning .We were off beat, but we got right back on track. "
After lunch, we headed to clinics including masterclasses for our main instruments, but there were plenty of other options. I play the flute, but my favorite classes were in dance. It wasn't modern dance or ballet, it was just fun.
The evening's concerts were dedicated to the choirs, bands, and orchestras of the region. By the time the Wrangell High School Band performed it was the end of the second day. So everyone's nerves had largely melted away.
I'm not going to pretend like we were the best musicians in the region or that we got the highest marks, but it was a good time. Well, more than a good time it was a bonding experience, a meaningful experience.