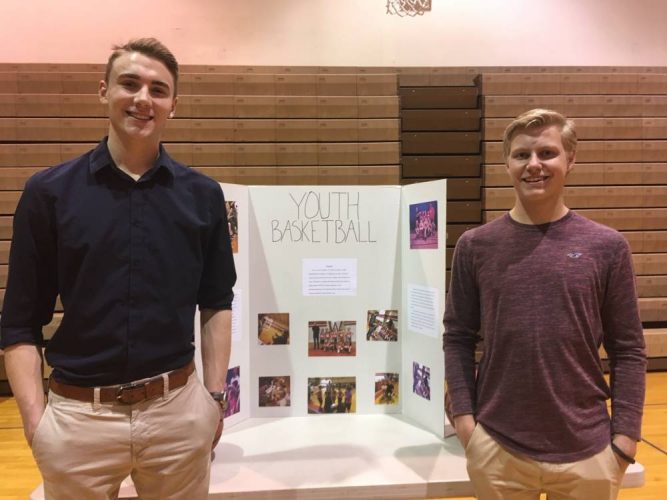 Wrangell's senior class is wrapping up its final days in high school. This week, seniors presented their culminating projects. While these projects range from science to sports to light maintenance, all involved the community at large.
Many seniors took on some form of little league coaching for their community project.
A pair of boys coached youth basketball for Parks and Rec. Kellan Eagle was responsible for a group of nine kids ages 8 to 10.
"They had fun no matter whether they were sitting on the bench supporting their team mates, out there playing, in practice, even when they were running because I had to punish them," Eagle said. " I learned a lot of ways to teach kids that don't want to pay attention things they need to learn. "
Riley Blatchley was his partner. He said he had a new perspective on his own coach, Cody Angerman, for his last year in high school basketball.
"After juggling playing time and making up plays while still working on the basics, once I got into season a couple months later I had a new respect for my coach," Blatchley said.
A pair of girls made a box maze. It was constructed out of large, cardboard boxes to make a plaything for kids and adults.
"It's pitch black in there so you have to try to find your way and crawl around to get to the end," said Abbi Gerald.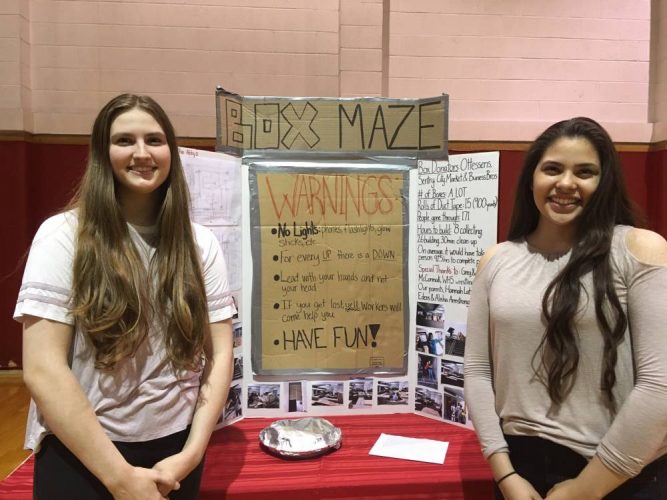 The girls said the box maze is something the students try to do every year, just for the fun of it. Abby Armstrong says 171 participants circumvented the maze.
"I just love watching the kids start. They'll go in there about five minutes later, they'll come out the other side, they're so pumped they got through, and they're psyched to get back in there and go through again and again," Abby Armstrong said.
One senior did some light custodial work. He scrapped off gum from under tables in the school.
"At the least to say this project was gross," Anthony Messenger said.
High School custodian Jason Beaty asked Messenger if he had a freezing spray, it takes the gum right off. Messenger said, nope, he just hacked away at the gum with a scraper.
Now back to academics, specifically biology. Senior Elizabeth Johnson learned some things about Alaska's amphibians.
"Even though I grew up here all my life, and spent 18 years here, I learned that there's a lot of different types of frogs and amphibians out here that I didn't think were," she said.
Johnson spent some time up the Stikine River looking for frogs, toads and salamanders. She and other Southeast students accompanied researcher Joshua Ream, whom has spent years documenting amphibians near Wrangell. His findings will soon be published in the journal The Northwest Naturalist.
Johnson says she has an interest in science, but now understands a biologist's work isn't just spent in nature.
"I think that a lot of that was field work and I think he does a lot of paper work," she said.
Johnson says she's going to college in Juneau. She's got no major in mind, but she's interested in studying abroad.
Wrangell's senior graduation is may 17th