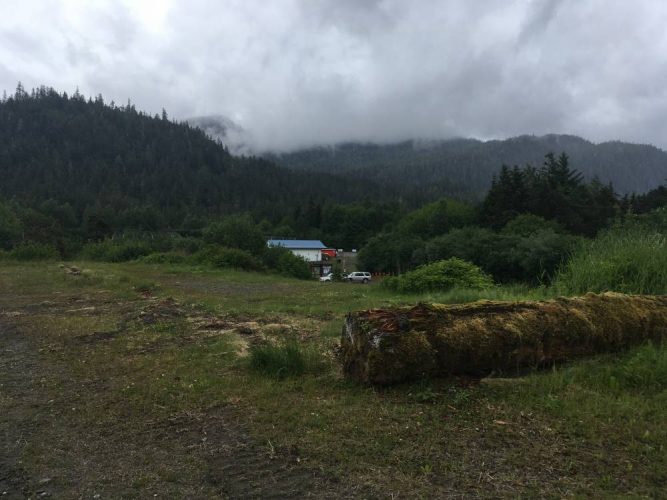 This year, Wrangell's Independence Day fireworks won't be at its traditional location on the waterfront. The Chamber of Commerce is working to ensure people have plenty of parking – and fun – at the new spot in Volunteer Park.
The Wrangell Fire Department and local Chamber of Commerce made a joint decision this spring to move the fireworks from the waterfront to the baseball field in Volunteer Park. The show's pyrotechnics permit required more open space than was available at City Dock.
It'll be harder to see the show from downtown, but spectators can hang around the edge of the elevated track, near a popular winter sledding area. City Parks and Recreation Director Kate Thomas says it'll be perfect for viewing.
A portion of the track is blocked off with logs for the designated pedestrian area.
The track has been used for ATVs, bonfires, and previously for horses. All those activities have caused some wear and tear.
Public Works Director Rolland Howell says city crews have been working to prep the grounds.
"We fixed the entryway, where you're going, that used to be really bumpy, so we fixed that. The kids have their big bonfires up there, so we cleaned up all their nails and stuff from the palettes," said Howell.
There will be a beer garden, food truck and other vendors at the covered basketball court. Trego, a six-piece band from Spokane, Washington, will play a set around 8:30 p.m.
Chamber of Commerce Director Alicia Holder says the idea is for the party to be centered around Volunteer Park.
"The viewing from downtown won't be great, you may be able to see something, but I wouldn't expect it to be a good show," Holder said.
So, the chamber will set up plenty of parking on Spur Road, behind the elementary school, and on the track. Charter buses will be available to shuttle revelers from downtown in time for the show.
Thomas dreamed up some alternative uses for the track after the Independence Day party. But nothing is set yet.
"The world is our oyster in some respects and we have some serious limitations in others," Thomas said. "It's a very large piece of land. To continue maintaining it would be an expense and the city has yet to determine the best use of that land."
The timing of the event hasn't changed: fireworks are set to shoot off at dusk — around 11 p.m. on the 3rd of July.