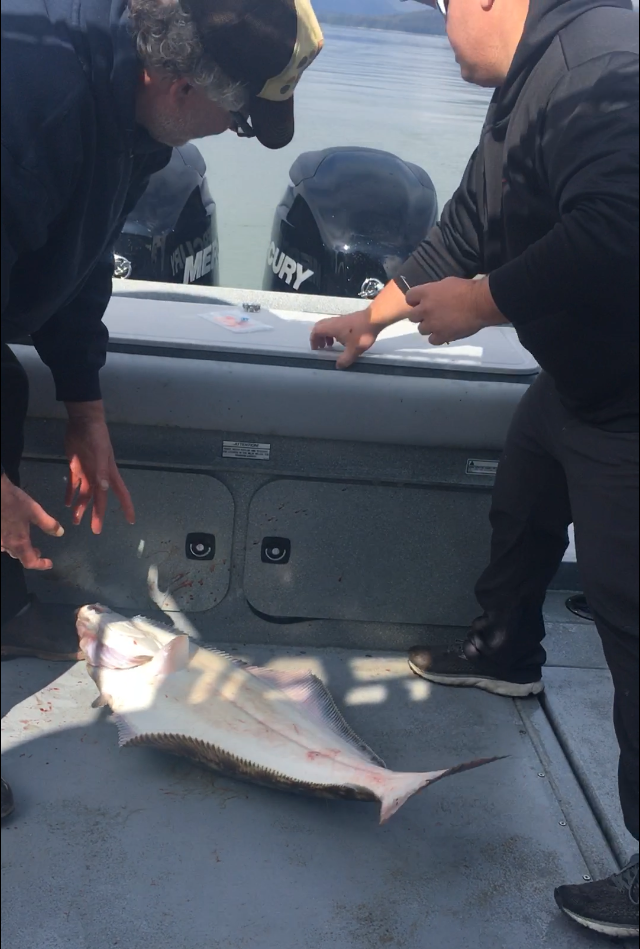 This Labor Day weekend, anglers in Wrangell have a chance to catch a fish worth $10,000 in cold, hard cash.
A few days before the weekend, Aaron Powell and Shawn Curley went out on this mission: catch an ordinary halibut and release a prize winning fish. The crew is tasked with catching a halibut, tagging it for the fishing derby, and releasing it back into waters not too far from town. Aaron Powell talks us through the game plan.
"Hopefully it's a small enough halibut that we can get him on board, tag it, and let it go," Powell said. "That's plan A, plan B we haven't got there yet."
If they're successful the fish they catch will be worth $10,000. But not for them — somebody else. And only if it's caught between Aug 30 and Sept. 2. After that, it's just an ordinary halibut – which are tasty but not worth thousands of dollars.
"And if [the fish] don't want to give, then he might not get tagged. We'll see if he wants to be famous or not," Curley said.
These guys can brag about how many halibut they're caught over the decades. But neither has ever tried to catch, tag and release one of these whoppers. Halibut can weigh up to hundreds of pounds after all. So they're understandably nervous. They can't kill or injure it, or else it won't survive for the derby. And there's only one tiny metal tag, meaning one shot at making it stick.
In less than an hour Curley gets a bite. And it's the perfect size fish, not too big, maybe 25 pounds. The crew decides if it wants to go to the trouble of bringing it on board or hoisting it to the edge of the boat. Powell makes the call.
"I don't want to lose this tag overboard , he starts trashing he's going to jam that [tag] right through my finger," he said.
The guys bring the fish on board. It squirms violently on the deck of the boat.
Curley pins it down, Powell pierces its skin with the metal tag. Then it's over.
Wrangell's Chamber of Commerce is getting creative with its fishing competitions. Since the king derby was effectively shut down due to state conservation measures last year, the chamber responded with a coho derby. It hasn't garnered the same interest. So this year the chamber tweaked the coho derby a bit, partly by adding a halibut competition and the chance to win $10,000.
"If we get some people participating, we'll try to do it again and if we don't it will just be something that was," Curley says.
The chamber paid a fee to insure the fish. In case someone does catch it, the company Hole-In-One, would pay out the cash prize. VP Bob Schukyl says the odds for this competition are proprietary information, but he did say it's…
"Lower odds than hitting the lottery, let's put it that way," he said.
But it has been done. Homer's chamber hosts a halibut derby, though it's a totally different game. Homer's derby lasts four months, and they release 100 tagged fish. And Homer's Chamber director Debbie Speakman says there's been some big prizes.
"In prior years we had a truck won. And we'd say there's a fish swimming out there with a truck. And I want to say a woman out of Kenai-Soldotna won that truck," Speakman said.
With a long derby, and many more tagged fish, clearly the odds are better. Speakman says about a fourth of tagged fish are usually caught. But only two have huge cash payouts, at $25,000 and $10,000. In more than ten years, no one's caught those fish.
Wrangell's halibut derby closes at 9 p.m. on September 2nd. The heaviest weighed halibut wins $700. September 2nd also marks the end of the month-long coho derby.