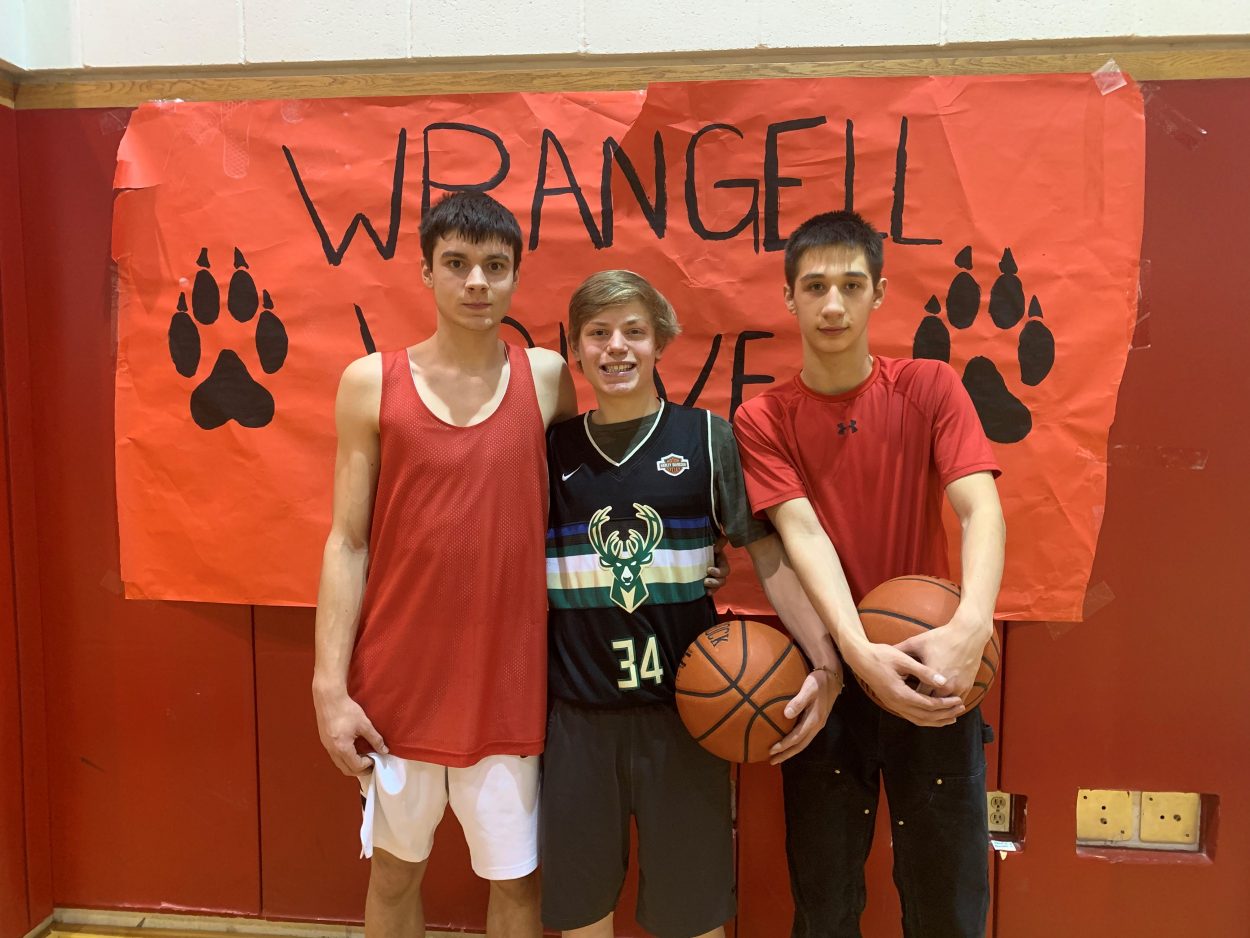 One of the best shooters on Wrangell's basketball team doesn't get a lot of court time. One senior is sidelined by a congenital heart condition. But that doesn't keep him from being front and center of the action.
Hank Voltz spends two hours almost everyday in the high school's gym. That's when the Wrangell wolves high school team practices. Voltz challenges the other guys to play PIG, a shooting match. He takes on assistant coach Graham Gablehouse.
"I just played Graham in PIG, beat him P. I. G. to nothing," Voltz says.
Head Coach Cody Angerman says this kid is formidable. "I won't lie he's done it to me before too," he says.
Despite all this, Voltz isn't often on the court during gametime. The senior was born with a heart condition. He has three heart chambers, instead of four. He's had a pacemaker since he was a toddler. Doctors warn him against getting hit in the chest.
"They didn't think it was best," Voltz says. "If it gets bumped or something. Only because I'm pacemaker dependent, and if something comes loose my heart can't pump on its own."
Now… I don't want you to picture some frail kid. He is shorter than most guys his age. But he's a true Alaskan, fishing, trapping, hunting. He's taken down three moose, along with bear, wolves, anything you can think of.
And he grew up playing some sports, like wrestling in middle school. But then. "After that year they thought it was best I don't play physical sports," Voltz says.
So, a coach asked Voltz to join the team as the manager, keeping stats and help running things from the sidelines.
He says he loves the sport and likes being part of the team, hanging out with the players. His coach says he's a motivational force on the bench, especially during away games.
But it does get frustrating to be on the bench. "It's pretty difficult to just be there watching and not help out," he says.
Voltz studies the game, he knows all the team plays. And he's not afraid to coach his peers when he sees a way he can help. "Sometimes watching the kids maybe do something I could do better or watching them not put any effort in it," he says.
After four years, Voltz got the chance to prove if he could really do it better.
In a game against the Haines Glacier Bears, Voltz got to don the uniform and be part of the starting lineup.
"It took a lot to get him to have clearance through multiple doctors, teachers, most importantly his parents, us," says Coach Angerman.
With the go ahead, Angerman set up a play for Voltz to take the lead and make a basket. This was supposed to go down in as little time as possible, considering the risks.
"I hate to say it, but in the back of my mind I'm thinking 'what if he misses it and we have to run all this other stuff. And we have to figure something else out,' I didn't want to do that," Angerman says.
But just 30 seconds into the game, Voltz is about at the half court line and he makes a three-point shot.
"Right when he shot it we all knew," Angerman says.
Wrangell Wolves point guard Brett Abrahamson was there on the court that night. "I run that play a lot it's really a successful play and he ran it perfect, absolutely perfect, it was awesome to watch," he says.
Since then, that moment has circulated on social media, at least for Wrangell and the southeast basketball community.
Voltz posted on Instagram later that night, saying "You ever have someone tell you you can't do something, so it makes you want to do it even more."
With that excitement going, the Wolves are on to the regional tournament at Juneau Douglas High School. Games begin Tuesday, March 10th.