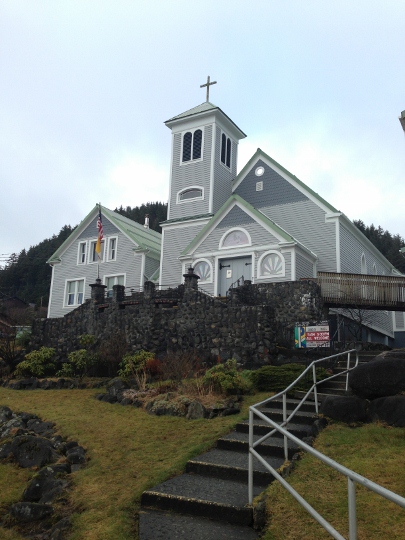 Friday marks the first day that all businesses in Alaska can reopen. Under previous state mandates, establishments had to limit capacity and abide by rigorous sanitation protocol. Those expectations meant many were not opening their doors. Now, more local businesses and churches are reopening according to their own rules.
Jake Harris runs the Stikine Inn, a hotel and restaurant in Wrangell. He did not open dine-in services when he first had the chance. But this week was different. He was ready to open according to previous health mandates that allowed 50 percent capacity. He was not expecting the governor's announcement to ease all those restrictions.
"To be honest with you, I just spent four days working on the mandates to operate within and I just had to throw all that stuff out," Harris says.
The Stikine is the largest dining establishment in Wrangell. And it's been historically open only during the summer, when tourists are in town. Harris says he needed staff to come back to prepare for busier months.
"Because if we do have any sort of summer, I have to have a staff. And this business requires quite a few staff, up to 35-40 people," he says.
Of course, he's not sure what the summer will bring. He expects the whole summer to look more like a shoulder tourism season. Travelers from out of state are still required to quarantine for two weeks.
"I don't expect to see a lot of people from out of state, even if they lift the interstate plans at this point," Harris says.
Other mom and pop restaurants are following suit. Zak's Café has stuck to carry out, but it will serve dine-in guests this weekend.
Wrangell's bars didn't spare time reopening. But this weekend, bartenders won't have to monitor patrons' social-distancing.
Most churches in Wrangell are also opening their doors. Joan Sargent, a council representative for the local Lutheran Church says services began last weekend. The church provided hand sanitizer and spread out seating.
"We're distancing at ten-feet, because we are singing," says Sargent.
This weekend, they'll keep those measures in place. She says it's easier for her church since there are so few members. Twenty churchgoers is about usual. Last weekend there were nine.
"The mitigation plan really does cover us for the long term, and it's pretty easy. So I think probably there won't be much change," says Sargent.
Wrangell's largest church, Harbor Light, will wait one more week before resuming in-person services.
While business owners and faith leaders are moving forward, public facilities are waiting a little longer. Parks and Recreation, the Nolan Center and the library are all finalizing a mitigation plan before opening.