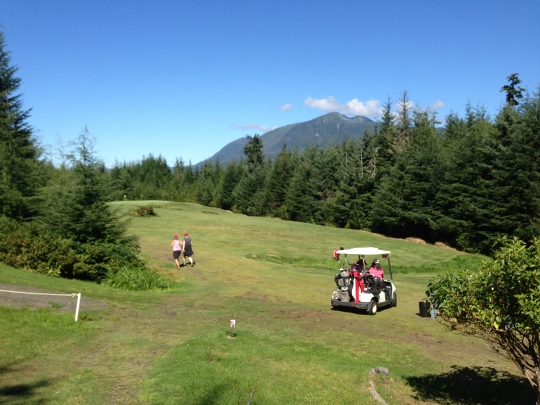 Wrangell's businesses and public rec facilities gradually reopened over the past two months. But today, many were closed following news of Wrangell's first confirmed case of coronavirus on the island.
The unnamed woman who tested positive for coronavirus recently visited Wrangell's Elks Lodge and Muskeg Meadows golf course, both establishments confirmed in written statements.
The golf course is one of Wrangell's few places that has not closed in recent months. Muskeg Meadows secretary Kristy Woodbury says the staff are now in quarantine and it's not known when the links will reopen.
"We have to wait until we have a little more information before we can make any decisions," she says.
The City and Borough of Wrangell released a statement Monday afternoon confirming that the COVID-19 infected person had not recently traveled. "Therefore, the case is considered to be community acquired and the source of the virus is, as of now, unknown," the unsigned statement said.
The golf course recently hosted about 60 people from Wrangell, Ketchikan and other communities for a regional golf tournament over the weekend that raised about $3,000 for the Greg Scheff Memorial Scholarship.
Other businesses have closed their doors. One hardware and home supply store is closed for deep cleaning. Others have remained open.
Public facilities have pivoted as well. Last Sunday's movie was cancelled, Parks and Recreation has delayed reopening the pool, and the library is currently closed. Public facilities will reopen after state contact tracing is complete, according to city department staff.
The woman tested has reportedly not exhibited any symptoms. It's unclear why she was tested. Wrangell's health provider SEARHC is currently offering testing for those with fever, runny noses and coughs. It's not currently testing asymptomatic people.
SEARHC says more than 800 tests have been administered in Wrangell. As of Monday, the results of 21 of those tests are pending.