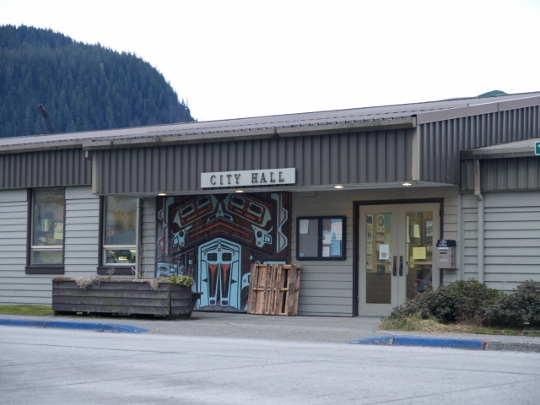 At a meeting Tuesday, a divided Wrangell assembly appointed a new assembly member by a single vote. But elected officials won't disclose who voted for whom.
At a Tuesday meeting, the Wrangell assembly appointed a new member to the city's highest governing board. The seat was vacant after the resignation of Drew Larabee, a long-time shop teacher at the high school, who's moving away to take another job.
The assembly had two applicants to fill the remaining three months of the term. They were: elementary special education teacher Ryan Howe and nurse practitioner Laura Ballou.
But before assembly members cast their votes by teleconference, Mayor Steve Prysunka announced a departure from long standing practice.
"Tonight we are doing things a little bit differently than traditionally we've done," he says.
Prysunka instructed assembly members to text their preference to the city clerk.
"And we'll tally the results, and from those results we'll hopefully have a clear winner," he says.
After Clerk Kim Lane announced the tally 3-2 result, the assembly followed with a motion to appoint the top vote-getter: Ryan Howe.
But this flies in the face of the Alaska Open Meetings Act, says Juneau attorney Joe Geldhof.
"Everything about what Wrangell did in appointing a new assembly member shrieks of opacity and not doing the public's business in the open," he says.
Geldhof says he's challenged municipalities violating the act in the past. He grabbed headlines last month when he brought a case on behalf of a Juneau man that forced state lawmakers to return to Juneau to appropriate federal COVID-19 relief funds.
He says municipal and state officials can deliberate some things behind closed doors. But they are limits — usually involving lawsuits or business deals. But even then, they have to come back into open session to cast their vote.
Geldhof says while elected officials can have closed door meetings, all actual votes take place in public in order to be binding.
"There has to be a decision to go into an executive session. And then you come out and have a recorded vote. And it doesn't appear the Wrangell assembly went into executive session, and they certainly didn't have an open vote," he says.
He says the Alaska law is clear: when you violate the act, it's like the vote never happened. So is Ryan Howe a voting member of the Wrangell Assembly?
That depends whether the appointment is challenged in court.
So far, Wrangell city officials defend the practice. City manager Lisa Von Bargen wrote in an email she's seen members make appointments discreetly elsewhere. She didn't specify where. But she says she's checking with the city attorney for further guidance.
This isn't the first time in recent weeks the city has apparently flouted Alaska's sunshine laws. The city has refused to turn over a seafood plant's COVID-19 protocol document it's had since April. The city denied KSTK's records request on appeal. It says its copy is a draft version but has not explained its legal justification for shielding the document from public view.