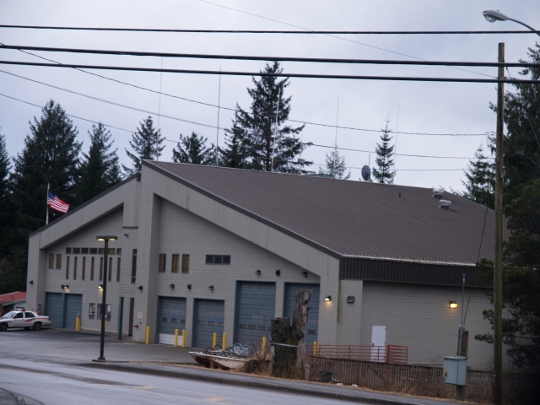 The City of Wrangell has scheduled a public forum on policing. Residents are looking for transparency and ways to improve how the police department operates.
About a half-dozen people wrote to the recently city asking to open dialogue with Wrangell's police department.
"I think that remaining silent on these issues is harmful, irresponsible, and only serves to perpetuate them," said Angie Flickinger addressing the Wrangell Assembly earlier this month. She penned a June 4 letter following widespread protests over the killing of George Floyd by Minneapolis police.
Three weeks ago she called on Wrangell's elected officials to start a conversation on policing and speak out against racism.
She says she's still waiting for that conversation to happen.
"I think It's really important for our community leaders to step out in front of it and just say 'We don't condone racism. We don't condone inequality. And here are the policies we have in place.' And if we don't have those policies in place than we need to be talking about what we can do to get them there," Flickinger says.
She says the isolated and quiet town of Wrangell may seem immune to abuses of power racial bias, but it's not.
"Issues of systemic racism exist everywhere and we don't always see it," she says. As a white woman, she wants to address any biases she might have herself. "It's not just like out in front of your face, blatant racism. And I think that's like its most insidious form."
City officials took note, and will hold that meeting on Monday, June 29.
City manager Lisa Von Bargen says the head of the police department will explain the workings of his department and take questions from there. From there the city could address ways for more community engagement or further training for the force.
Police Chief Thomas Radke told the assembly he's open to having this talk with the community, and he says he stands by how his officers behave in the community.
"There's not any of my officers that have policed based on what someone's race is. It's based on conduct, based on what an individual's conduct is," Radke says.
For his officers and those across the nation, Radke says the toughest moments aren't always walking into a dangerous situation. He says in those cases, officers are preparing for the worse. But when a low level interaction quickly escalates, that's when the most trouble can happen.
"Like a traffic stop, that escalates into a use of force situation, and that use of force situation turns, you know, really ugly, really violent." Radke says. "That is where a lot of the question marks are. And yet, that's where there's a lot of unknowns going into it."
Wrangell's police policy manual outlines when it's appropriate to use force. The policy allows non-deadly and deadly force including chokeholds, a restraint that was ultimately fatal last month in downtown Minneapolis which killed George Floyd.
Radke says all of his officers have been trained to identify racial bias and are trained at de-escalating situations at the police academy. But locally that's not a routine part of their training regime. He says it's up to the city council to allocate resources for something like that.
Next year's city budget slashed travel and training across departments. City officials said they'd like to keep any training necessary for public safety on the books, but it's unclear whether racial bias or de-escalation training fits that bill.
The community teleconference meeting with the police chief and assembly is at 6 p.m. Monday, June 29.