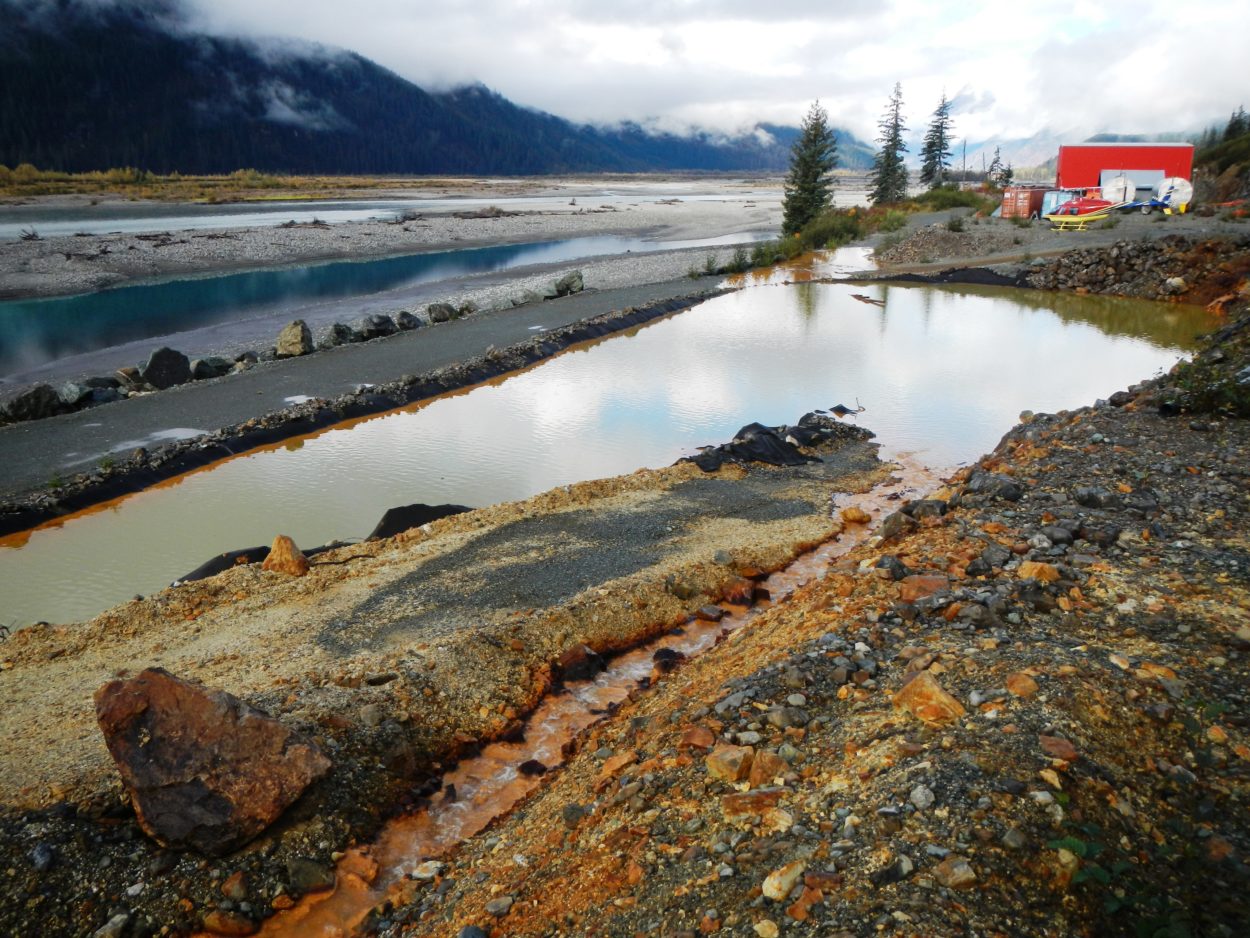 British Columbia has released a long-awaited cleanup plan for the Tulsequah Chief Mine. The Canadian mine 40 miles northeast of Juneau has been leaching acidic runoff into a tributary feeding into the Taku River — a major salmon producing habitat — for years.
"The environmental issues at the Tulsequah Chief Mine site have gone on for too long," Bruce Ralston, B.C. Minister of Energy, Mines and Petroleum Resources said in a statement released Wednesday. "But after working in partnership with the Taku River Tlingit First Nation and the government of Alaska, I am pleased to see we now have a plan in place and can get to work on reclaiming the site."
The legacy mine was only open for about a decade. It hasn't produced ore since the 1950s. Yet untreated acidic runoff has been leaching into the Tulsequah River, about six miles from the transboundary Taku River, for years.
A number of companies have tried to restart mining. The most recent was Chieftain Metals which went bust in 2016 and is now in receivership with a third-party firm managing its assets. 
All that while a number of cross-border studies and provincial mining regulators have documented pollution from the mine.
"There's been work by (Alaska) Fish and Game and British Columbia that talk about right near the area of the mine, that there is exceedances to water quality standards in those areas," said Terri Lomax of the Alaska Department of Environmental Conservation. She's helped lead a cross-border water sampling study with preliminary results released this spring.
Samples taken in Alaska, she says, didn't show any direct threats to human or animal life on this side of the border.
But that doesn't mean the status quo should continue. Kyle Moselle has been heading up cross-border consultations with the B.C. government and tracking transboundary mining for the state's Department of Natural Resources. 
He says the province's release of the remediation plan on Wednesday is significant step in an issue that's been tracked closely by state regulatory officials.
"It's a complex effort that B.C. is taking on with addressing the legacy mining issues of the Tulsequah Chief site," Moselle said. "And I just want to emphasize that this is a positive milestone in that process."
Mine critics have seized on Tulsequah Chief as an example of how difficult it is to clean up environmental messes once a company runs out of money.
"I think the story of the Tulsequah Chief Mine just shows the difficulty of cleaning up these mines once they stop operating," said Guy Archibald, a staff scientist with the Southeast Alaska Conservation Council. "It's a cautionary tale. We have to be very careful before we tap into something that may result in a permanent discharge."
Chieftain Metals' largest creditor is now fighting in court to salvage a chance to recoup tens of millions of dollars it invested in the mine. 
Attorneys for West Face Capital — an Toronto-based firm — told a bankruptcy court in Ontario this week it's trying to recoup around $47 million it's racked up in lost investments, costs and fees. 
It wants the mine to be discharged from the court-ordered receivership which is costing a lot in fees to manage the assets. But the investor still wants to shop the mine around should a prospective buyer emerge to resume operations. 
Attorneys for the B.C. government and the Taku River Tlingit First Nation have opposed this. B.C.'s lawyer pointed out the mine has been in breach of Canadian law by allowing pollution to go unchecked for years.
"At this time, contamination and acid rock drainage from the mine continues to flow directly into the Tulsequah River and associated waterways," B.C.'s chief inspector of mines wrote to Chieftain Metals in late 2018.
The province asked the court this week to limit West Face's option to two years to find a buyer or drop any claim it has to the assets.
In the meantime, the first phase of the province's 113-page remediation plan calls for repairs to roads and bridges and an airstrip to access the remote site. Only then, B.C. officials note, could work begin on long-term plans to address environmental and public health concerns.