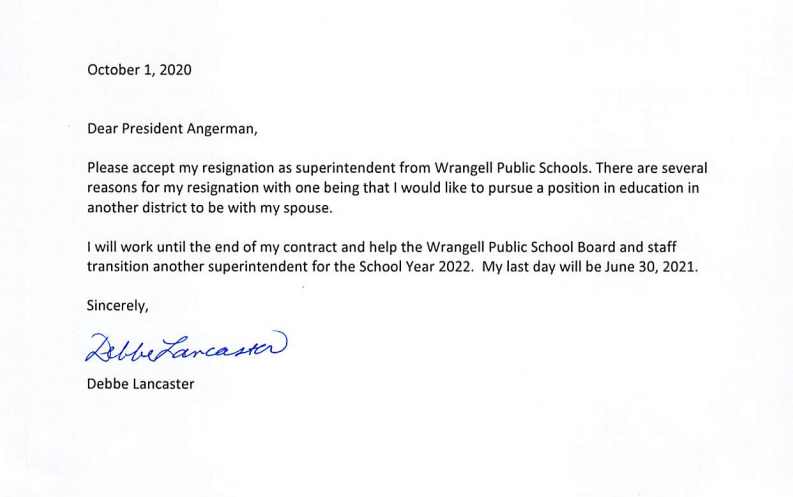 Wrangell schools' superintendent Debbe Lancaster is leaving, but says she'll stay on the job through the end of the school year. This comes less than a month after she was formally reprimanded by the school district for an unauthorized, all-expenses-trip she'd led to Juneau before the beginning of the school year.
Lancaster notified the school board in an October 1 letter that she's resigning. In the letter, she said she had multiple reasons for the resignation. The only one she listed was saying she wants to work in another district to be able to be closer to her husband.
Lancaster set her last day will be when her contract expires on June 30, 2021. She said she will help transition the district and staff to a new superintendent who would presumably start before the 2021-2022 school year.
School board policy dictates that the board will now evaluate the district's needs, write up and approve a job description, and interview candidates, but does not lay out a timeline. Example qualifications for a new superintendent are also listed in Wrangell school board policy.
Wrangell's school board is expected to consider her resignation letter at their Monday meeting.
Lancaster was hired in Wrangell in 2018. She previously worked as a program administrator with the North Slope Borough School district in Utqiagvik.
Her letter does not say whether she has taken a job in another district, or where she plans to go once she leaves Wrangell. Lancaster declined to comment, citing the terms of last month's reprimand issued to her by the school board. The reprimand includes a clause barring the superintendent from speaking to members of the media without board approval.
Get in touch with KSTK at news@kstk.org or (907) 874-2345.