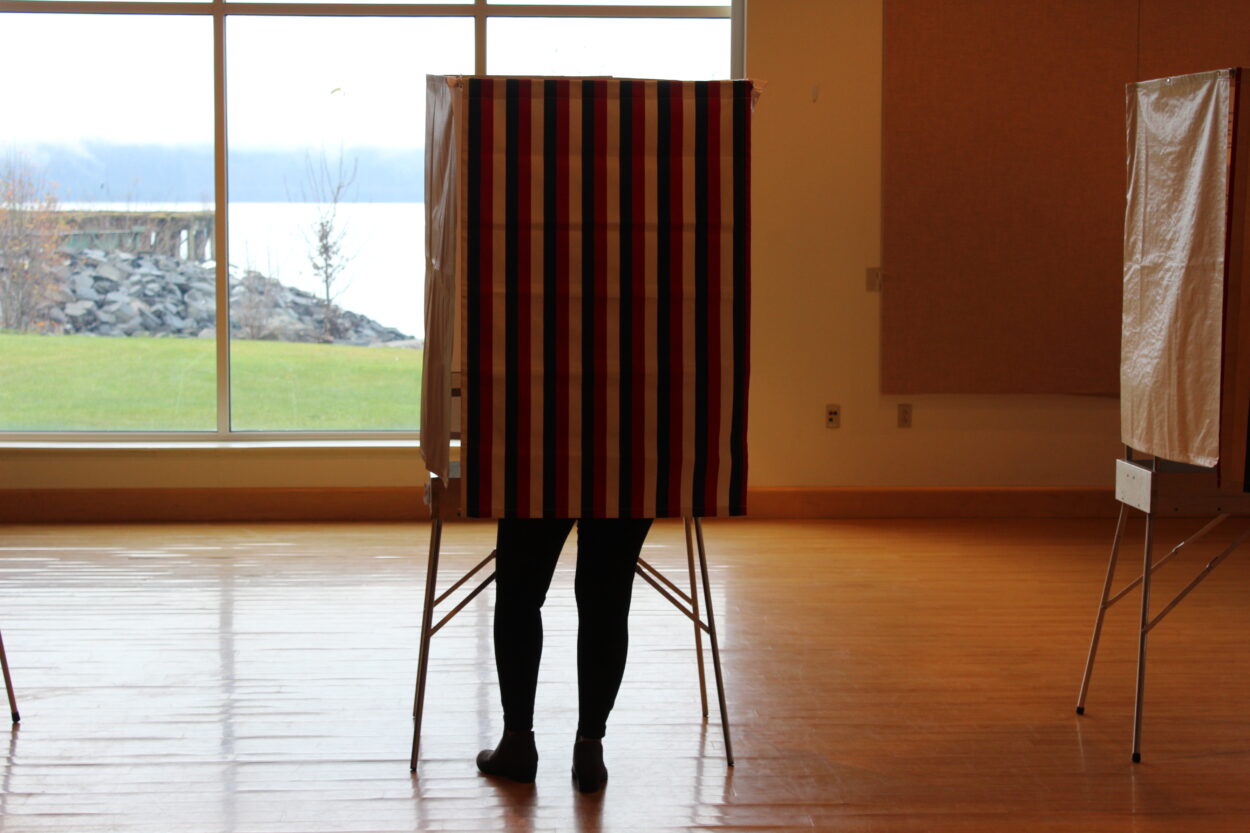 These are preliminary, unofficial election returns, and do not include mail-in or absentee ballots.
Wrangell voters came out in force to cast ballots in the General Election.
More than 750 Wrangellites cast ballots in person — a total of 759 — with another 316 early voters making overall turnout above half of the registered voters in Wrangell. Early projections show a 10% uptick in participation compared to four years ago. This is the first time since the 2008 General Election that voter turnout has been over 50% of registered Wrangell voters.
Wrangellites expressed a mix of emotions on Tuesday that Election Day had arrived.
"I think like everybody, I feel a mixture of relief, and probably a little bit of anxiety that it's election day. But more relief at this point. I'm glad it's here," said Stephen Todd, standing outside of the Nolan Center early Tuesday afternoon. "In the past four years, the administration has kind of broken a lot of norms. So this one feels a little different because of that."
Erica Tlachac says she feels like this election has a more serious air than past years, explaining: "It feels a lot more serious because everybody is so divided. I feel like in the past, a lot of people were more respectful of other opinions. And this year, it doesn't seem like that's the case."
Arthur Gilbert echoed the sentiment, but blamed mainstream media for political tensions.
"I think I've been voting since the early 60s," Gilbert said. "And as time goes on, it seems like each and every election becomes dirtier. This — each election becomes more biased by the liberal press."
Ivan Simonek was born in communist Czechoslovakia. A naturalized U.S. citizen, he says he was motivated to vote.
"I didn't get born in this country. I experienced socialism for 20 years. And it was horrible. And I hope this country never goes socialist," Simonek said.
Lora Laube echoed some other Wrangellites when she expressed being fed up with the rancor of this year's election — and not just nationally, but in Alaska too.
"I think everybody's pretty sick of all the bombardment from all the ads and all the wasted paper in the post office. But it was pretty easy to go in and vote, so I was glad to do that," she observed.
Layton Harvey says he's hoping the races can be called quickly, commenting "I wish it was over… I hope it will be over by midnight." (It was not, state and national counts have yet to be finalized).
Clint Lewis was doubtful about a quick resolution.
"Who knows," Lewis said, "the way two main parties been going at it? It could be a month or two."
The winners and losers in Alaska's statewide races may not be clear immediately; the state Division of Elections says it won't begin tallying absentee ballots until November 10.
More than 2,800 "alternative vote" ballots from House District 36 — that includes in-person absentee, mail-in, online, and special needs ballots — are part of the tally. House District 36 covers Wrangell, Ketchikan, Metlakatla, and the southern half of Prince of Wales Island. About 800 more ballots could be received by the state from House District 36 in the next few days, based on ballot applications in the district. State law allows ballots to come in until November 13, as long as they were postmarked by Election Day.
As of early Wednesday morning, independent Alaska House District 36 incumbent Dan Ortiz was leading his challenger, Ketchikan Republican Leslie Becker by more than 10 points, with all but two precincts reporting. However, those numbers do not take into account the alternative vote ballots, which make the race too close to call. In the race for state senate, unopposed incumbent Sitka Republican Bert Stedman had received the lion's share of the reported votes by early Wednesday morning.
Get in touch with KSTK at news@kstk.org or (907) 874-2345.