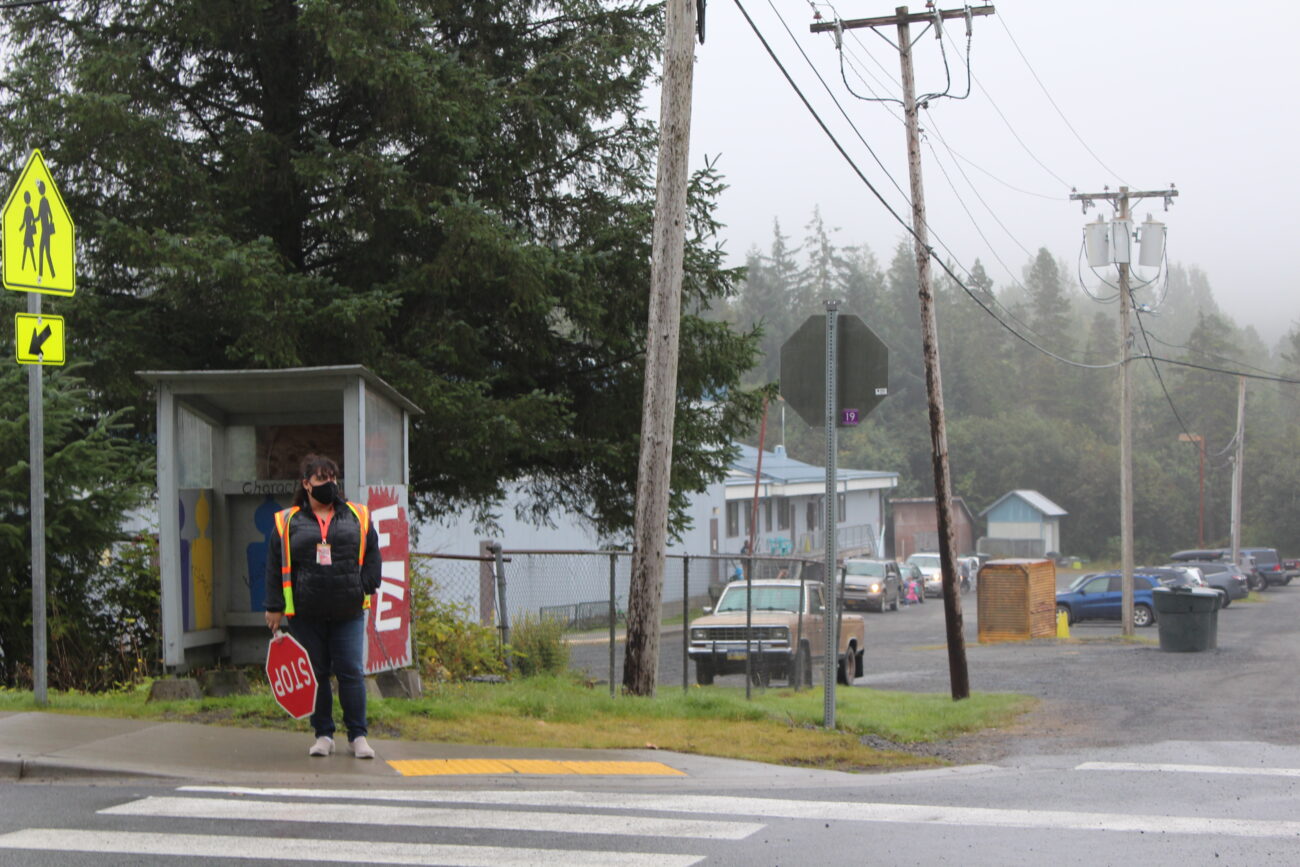 COVID-19 cases are rising exponentially across Alaska, but Wrangell has only seen two cases of COVID-19 in the last two months. So, as more densely populated Alaska school districts move to online learning, students at Evergreen Elementary School had their first week of full-day, in-person instruction.
Wrangell Elementary students started the school year with a mixture of classroom time and online learning. Small cohorts were in classrooms for half the day, and participated in distance learning the rest of the time.
But that changed on November 2, when elementary students had their first day of full-day, in-person learning this school year.
"The staff's just over the moon, we're just very excited, it feels more normal," said Jenn Miller-Yancey, the Evergreen Elementary School administrator.
She continued: "The first day, when I was out greeting the students when they came in, especially the younger ones, they were cheering, so of course, I was out there 'Rah, rah, we get to stay the whole day today!' And there were a couple of fifth graders were a little less excited. But when they got to see what the day looked like, and they were all on the playground together, and the A group got to see the B group for the first time, that was like, 'Okay, this is, this is pretty cool. We can live with this.'"
Miller-Yancey said the main difficulties with a transition to full-day school were minor; students who had been in the afternoon cohort seemed to have a little trouble getting out of bed: "We had a little bit of a tardy line kind of going out the door the first day, which then the second day went down pretty significantly," she added, smiling.
Miller-Yancey said the elementary school had to be cautious at the beginning of the year. They had all but one of their school aides leave, which meant some staff reshuffling in order to open with proper COVID-19 mitigation.
"We had so many unknowns," she explained. "No one's ever done a pandemic before — we had masks to contend with, we had screenings, sanitation to deal with, there were so many moving parts."
But as winter set in, and seasonal jobs started to wrap up, Miller-Yancey says the school had a flood of applications, and was able to fill empty aide positions, as well as round out the substitute teacher list.
Enrollment across Wrangell Public Schools is also down this year. As of late October, enrollment was just 58% compared to this time last year. That's 130 fewer students district-wide.
That freed up teachers who had been filling those screening and sanitation positions, making full-day school possible. And Miller-Yancey wants to keep school open.
"I think a lot of parents were just waiting for it, being very patient about it," she said. "And understanding that everybody's just trying to get through the pandemic situation and keep it safe."
Miller-Yancey says the way to do that — to keep school open — is to keep doing what the school has been doing.
"Going forward, I would say that I am, as the administrator, being somewhat of a barracuda about making sure that we're following our mandates, our protocols."
She says she doesn't anticipate protocol enforcement being much of an issue, though, explaining: "We have had zero issues with the students masking, which makes it very easy for us. They just get it."
She added that younger students seem to have the easiest time adjusting. Some even forget to take their masks off on the playground, because they're so excited for recess.
Stikine Middle School and Wrangell High School were already running with full day instruction Monday through Thursday, and half-day hybrids on Fridays.
Wrangell has also only had two COVID cases in the last two months — one in mid-September, and one last week.
Get in touch with KSTK at news@kstk.org or (907) 874-2345.